Roasted carrots are my soon-to-be husbands favorite food. I could literally oven-roast like 2 pounds of carrots, and almost guarantee he would eat all of them. So I knew when I made this recipe that he was going to love it – and I was right! This recipe for oven roasted carrots with pesto and goat cheese is a great way to get your veggies in during these summer months!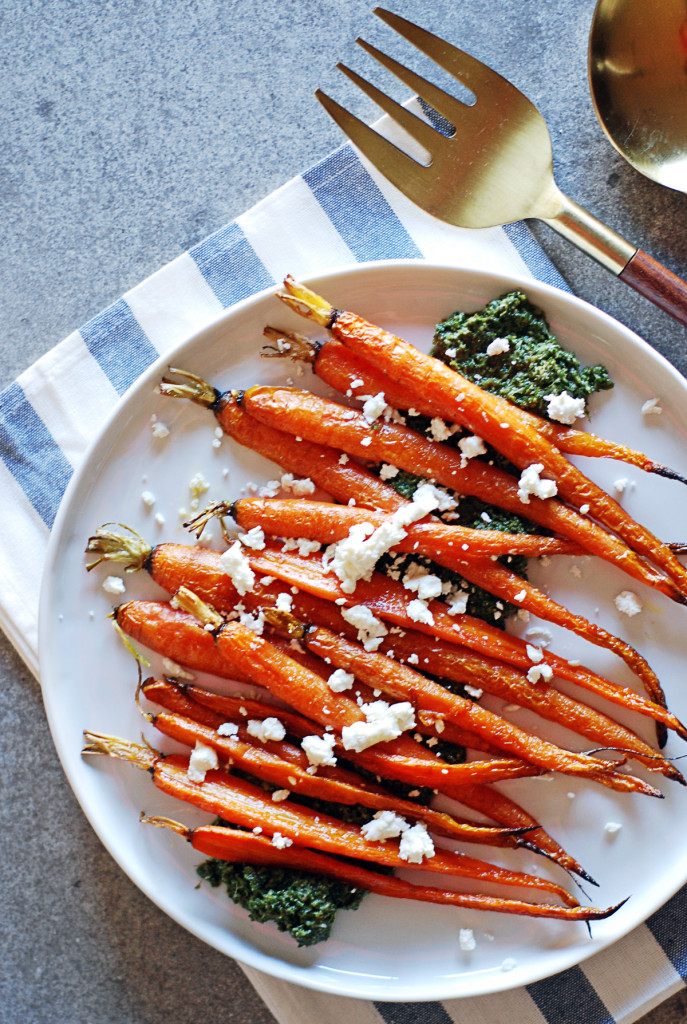 This post may contain affiliate links. Please click here to read my full disclosure policy.
That carrot-eating fiancé and I are getting married in just two days. Two days! It's nuts! It feels like forever and also hardly any time at all since we met, which is a crazy weird feeling. I cannot wait for our special day and to have all our amazing family and friends there to support us.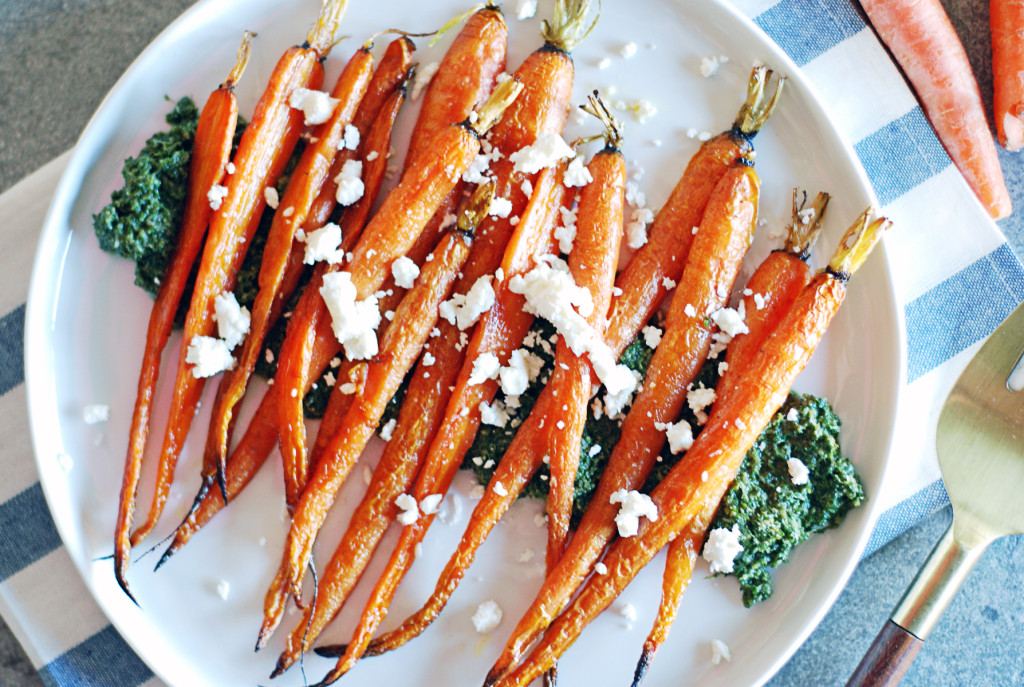 After the wedding we leave for our honeymoon in Europe. I'm so excited for two weeks of travel, and just praying I don't get seasick on our cruise (first time cruiser here, people!). It's going to be such an amazing experience to try all of the local foods on our excursions – I'm super pumped to get a big dose of international recipe inspiration on our trip!
Related: Israeli Couscous Salad with Carrot and Lemon Oregano Vinaigrette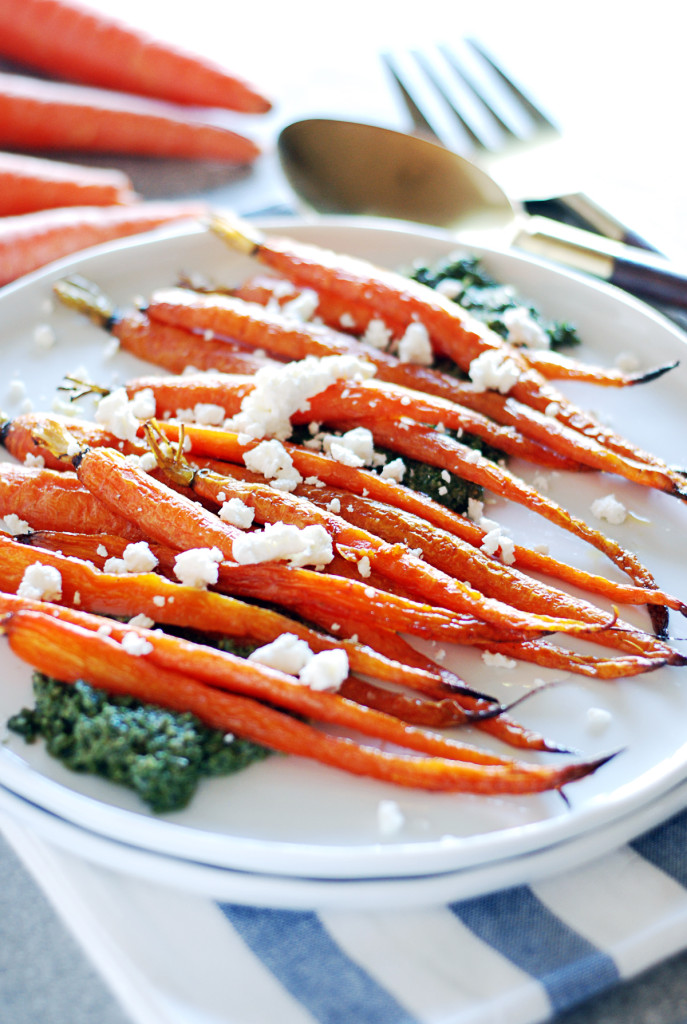 These carrots are crazy tasty. I mean, we all know already how amazing oven roasted carrots are with their crispy caramelized goodness. But I wanted to hit the refresh button on this classic recipe and make something that was totally summer appropriate. These carrots hit the mark! They are paired with creamy fresh goat cheese and a carrot top pesto. I love that this recipe uses all of the parts of the carrot: it's no fun throwing out those beautiful green tops! (But if you're pressed for time on a busy weeknight, jarred pesto tastes just as good!)
Related: Asian-Style Oven Roasted Carrots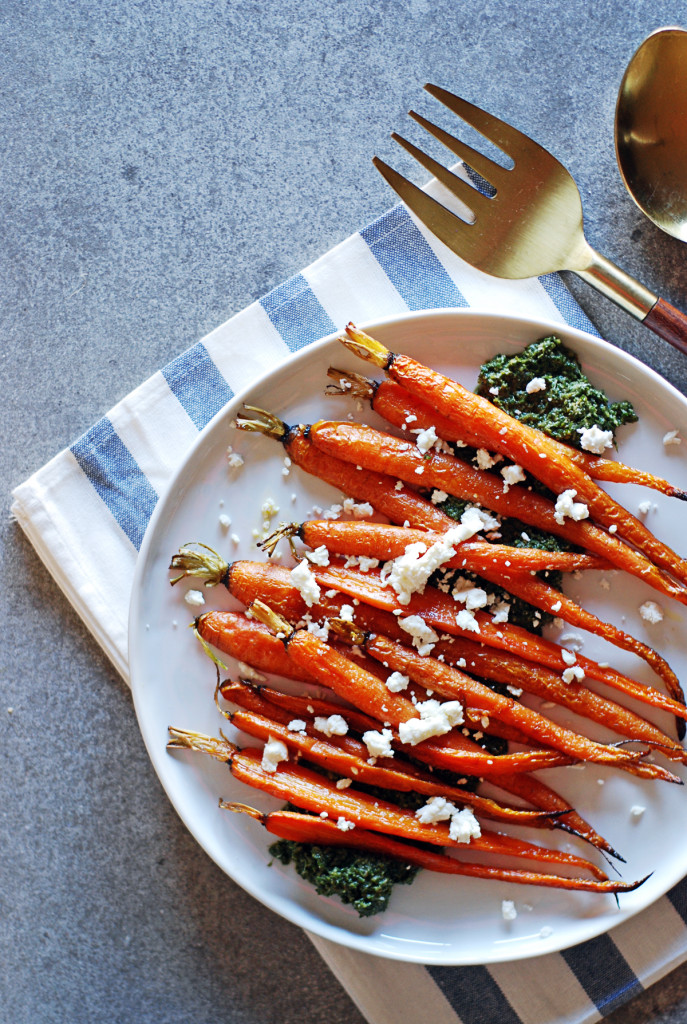 Now it's your turn: what are your favorite toppings for oven roasted carrots? Share with me by commenting below! I'd love to get some more great ideas for what to feed the soon-to-be hubby in the carrot department! 🙂
[optin-cat id="1965″]