National Pasta Month is almost over! Somewhat depressing for me… but I'm still going strong sharing my pasta recipes: today I've got a tasty creamy garlic chicken pasta dish!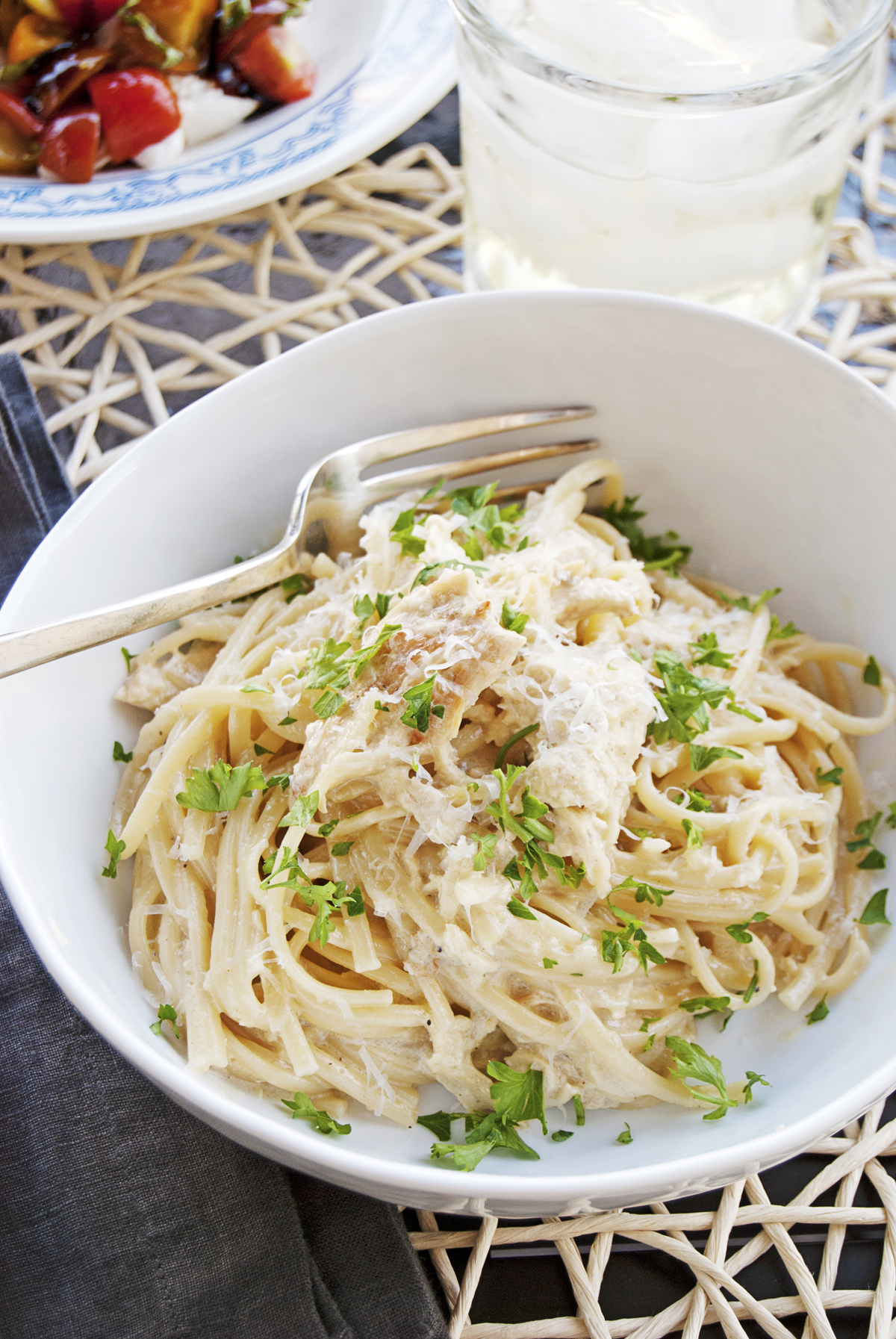 This post may contain affiliate links. Please click here to read my full disclosure policy.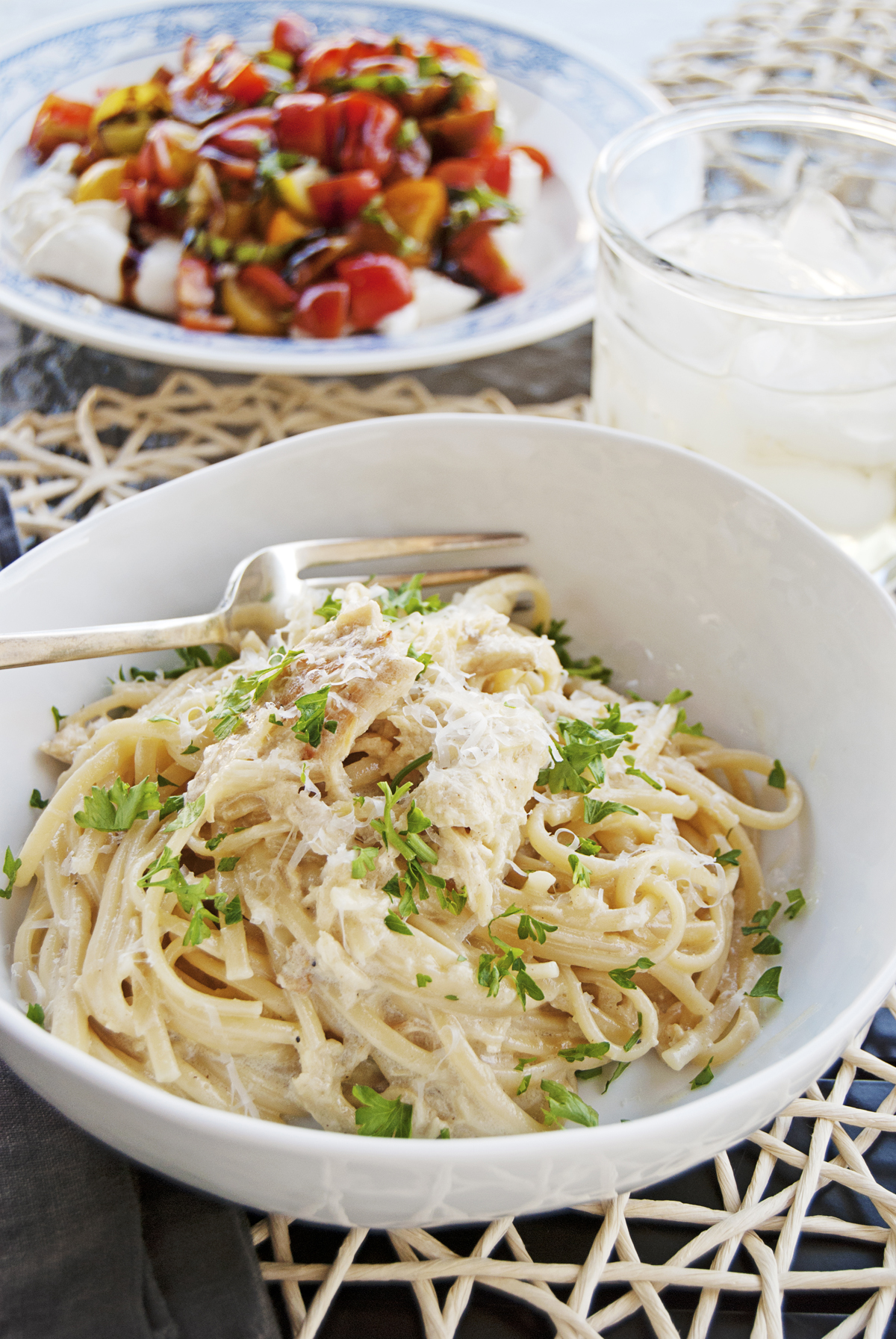 It's a sad day today. The last post for National Pasta Month! But I'm going out with a bang with this recipe for creamy garlic chicken pasta! I think I love pasta an abnormally large amount compared to the average person. I've asked the hubby repeatedly why doesn't he like pasta as much as I do and his answers have ranged from "I don't know, I just prefer other carbs" to "literally nobody loves pasta as much as you do, Sarah." Which I just can't understand: pasta is my absolute favorite vessel for protein, veggies, and sauce!
Related: Mom's Chicken "Chicky" Pasta
It starts with sautéing the chicken breast to get it nice and crispy on the outside and well-cooked on the inside, before shredding it. If you're running short on time though, you could also buy one of those precooked chickens from your local grocery store and shred about 2 cups of it! (Bonus: shred the rest to use in salads and quesadillas for lunch!)
Tip: Looking for a way to quickly shred your chicken? After cooking your chicken breasts, allow to cool for 2-3 minutes before adding to your KitchenAid mixer fitted with a paddle attachment. Turn mixer on to medium speed and churn for about 20-30 seconds until fully shredded. Easy peasy!
Then I sauté shallots and garlic in some butter in the same pan. (Seriously, is there anything better than the smell of shallots and garlic cooking? I think not!) And I mean lots of garlic. Three minced cloves plus even more garlicky flavor in the form of concentrated garlic powder! Oh yeah. Add more or less according to your taste preferences! Then I use white wine, chicken stock, and heavy cream to create a luscious cream sauce. And as if it wasn't creamy enough… let's add some mascarpone to make it extra cheesy and luxurious! Then we toss all the pasta and chicken together with the sauce to coat everything nice and well, before seasoning with salt and pepper and serving with Parmesan. I can't get over how simple and tasty this meal is!
Related: Lemon Oregano Chicken Pasta with Sautéed Onions and Bell Peppers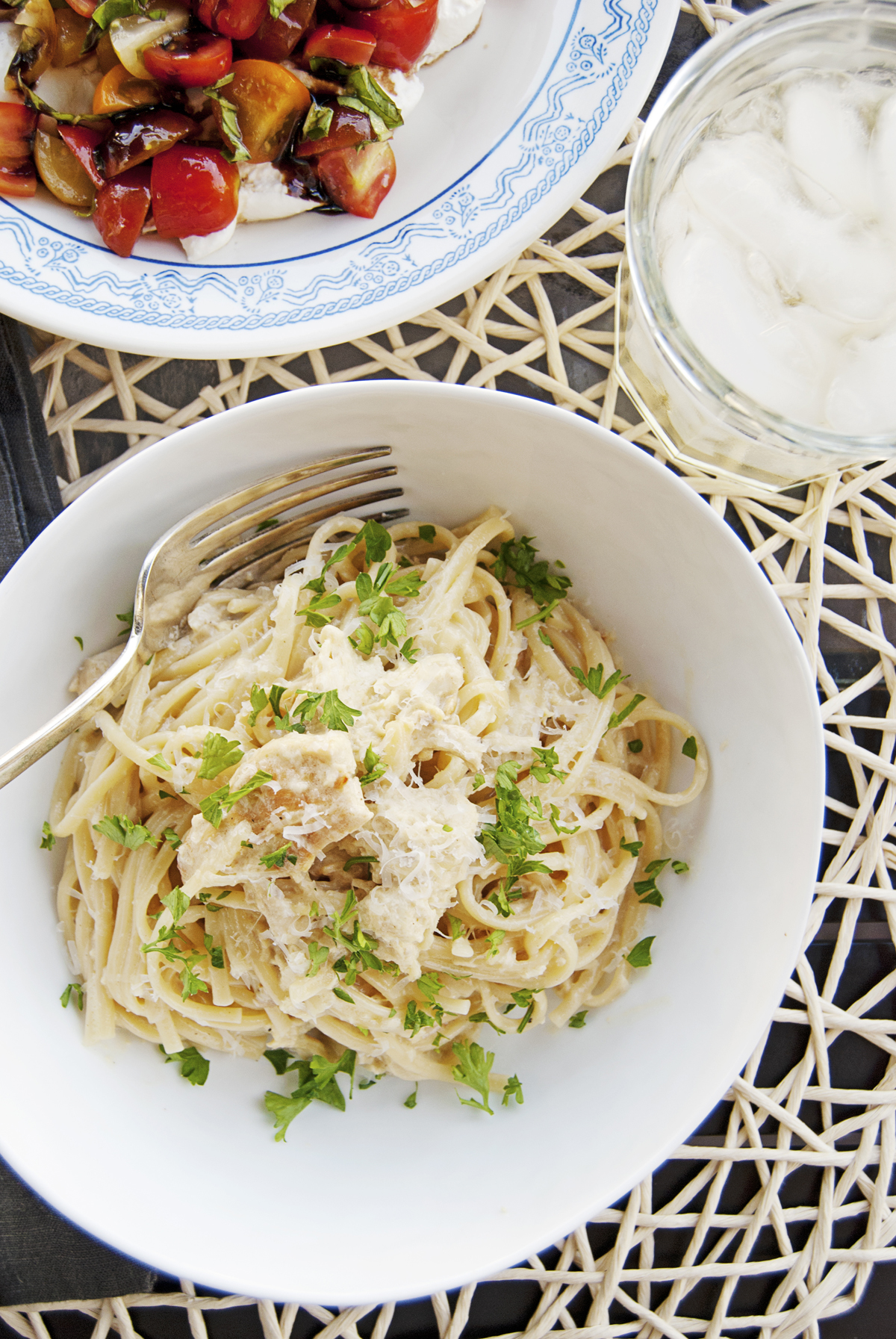 Now it's your turn: what is your favorite pasta recipe to celebrate National Pasta Month with? Share with me by commenting below!