This short rib bolognese will be your new favorite slow-roasted dish! This short rib bolognese is paired with creamy ricotta ravioli.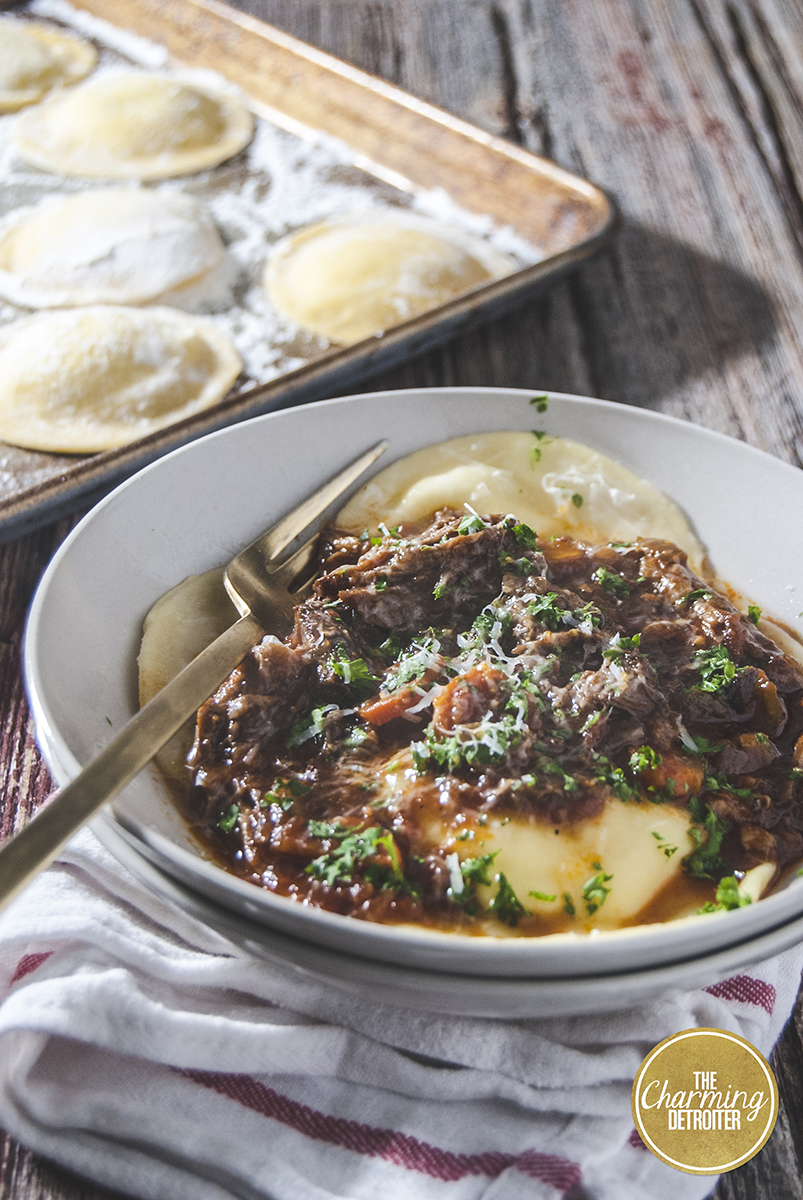 This post may contain affiliate links. Please click here to read my full disclosure policy.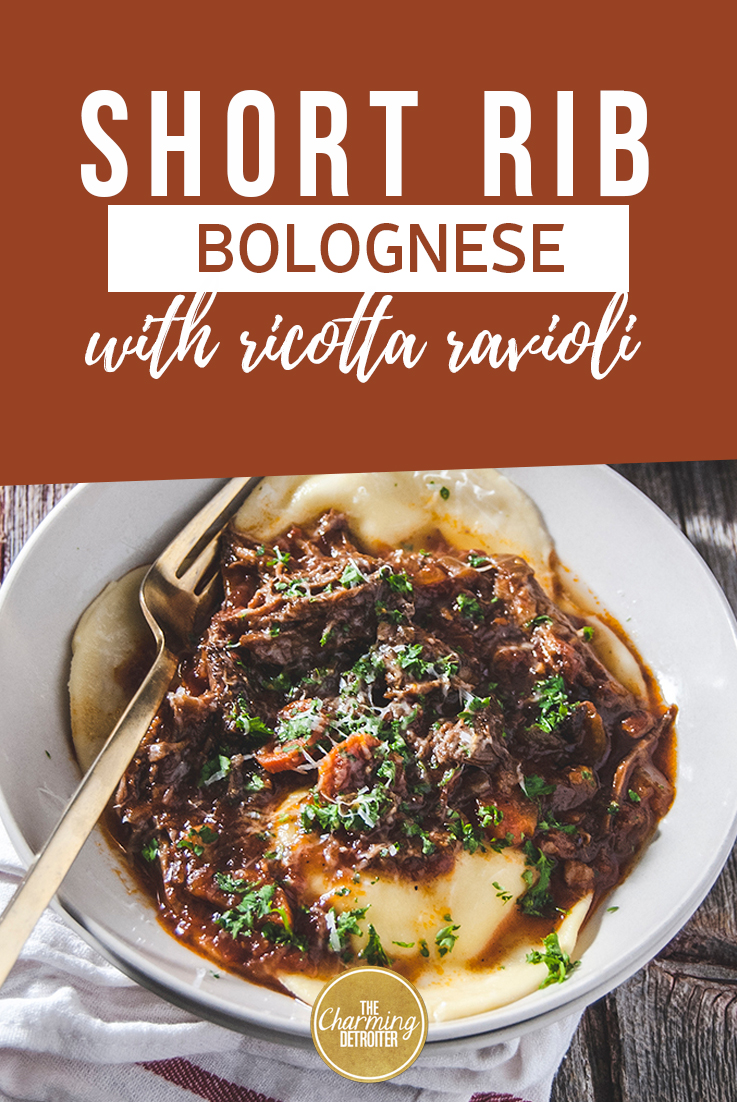 Happy Saturday! We move one day closer to Christmas today, and what a beautifully snowy day it is out there! I'm sitting here with my cup of coffee, curled up on the sofa with my two little cuddle buddies, with the Christmas tree lit up and a crackling fireplace. Okay, that part is actually just the Yule Log channel, but it gives me a vision of the future, when one day we'll have an actual fireplace in our home 🙂
Related: Three Secrets to Making Ravioli with Wonton Wrappers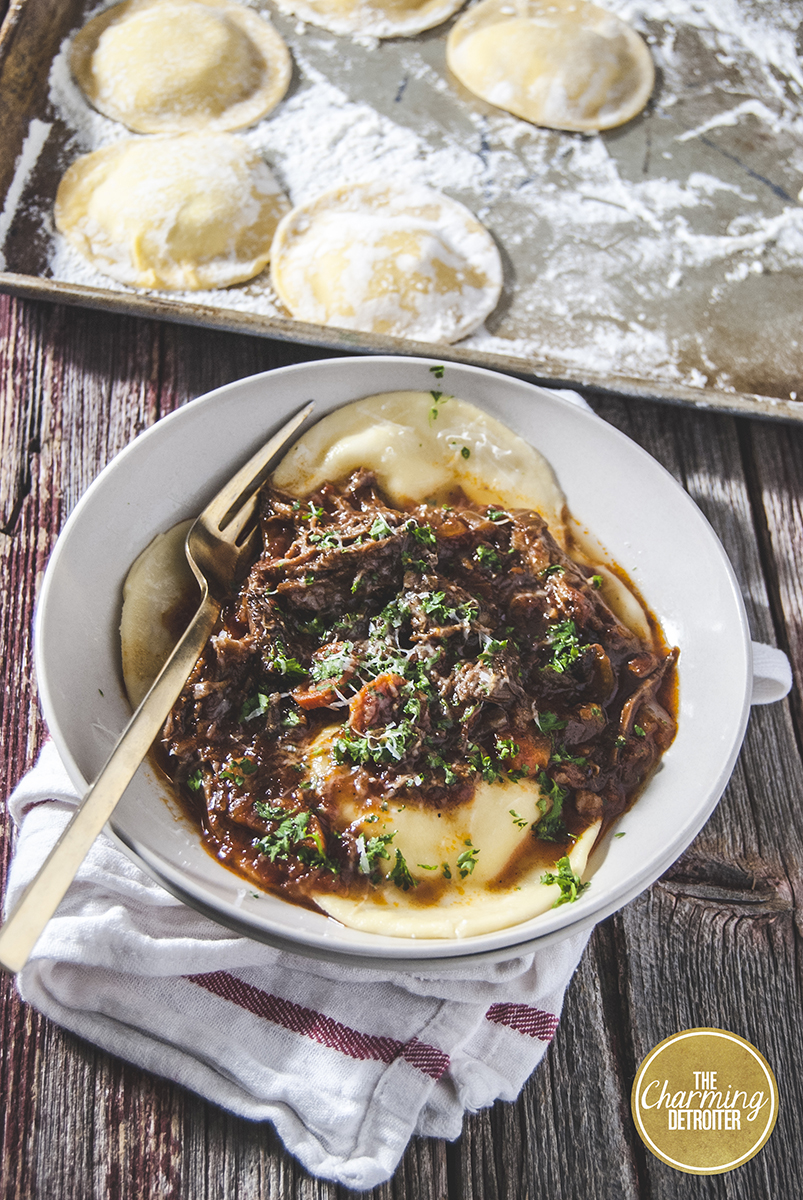 Last night we headed down to the historic Detroit Athletic Club for a night of delicious food and dancing for the White Christmas Ball. It was a beautiful event, and a crazy fun time, and it reminds me so much of my childhood, spending time with my mom while she was volunteering for the St. John Fontbonne Auxiliary.
Enough reminiscing, because right now my belly is screaming "COMFORT FOOD!" Isn't this just the perfect time of the year for making slow-simmering meats on the stove and homemade ravioli stuffed plump with ricotta? Yes, yes it is.
Related: Goat Cheese Ravioli with Roasted Carrot Soup
You've gotta make this next weekend, I'm telling you: there is nothing more magical in this wintery season that the smells of slowly simmering beef short ribs in a Dutch oven on the stove, and sneaking a little piece here and there all afternoon long. The meat literally will be falling off the bone by the end of it's hot tub session. I wanted to make this dish really special, and so instead of throwing it on top of the usual mashed potatoes or noodles, I opted for a homemade ravioli. These ricotta-stuffed beauties are absolutely divine with the short rib bolognese: the way that the creamy ricotta just melts right into the sauce… mmm you will never want to not eat beef short ribs with ravioli again!
Related: Beef Ravioli with Creamy Tomato Sauce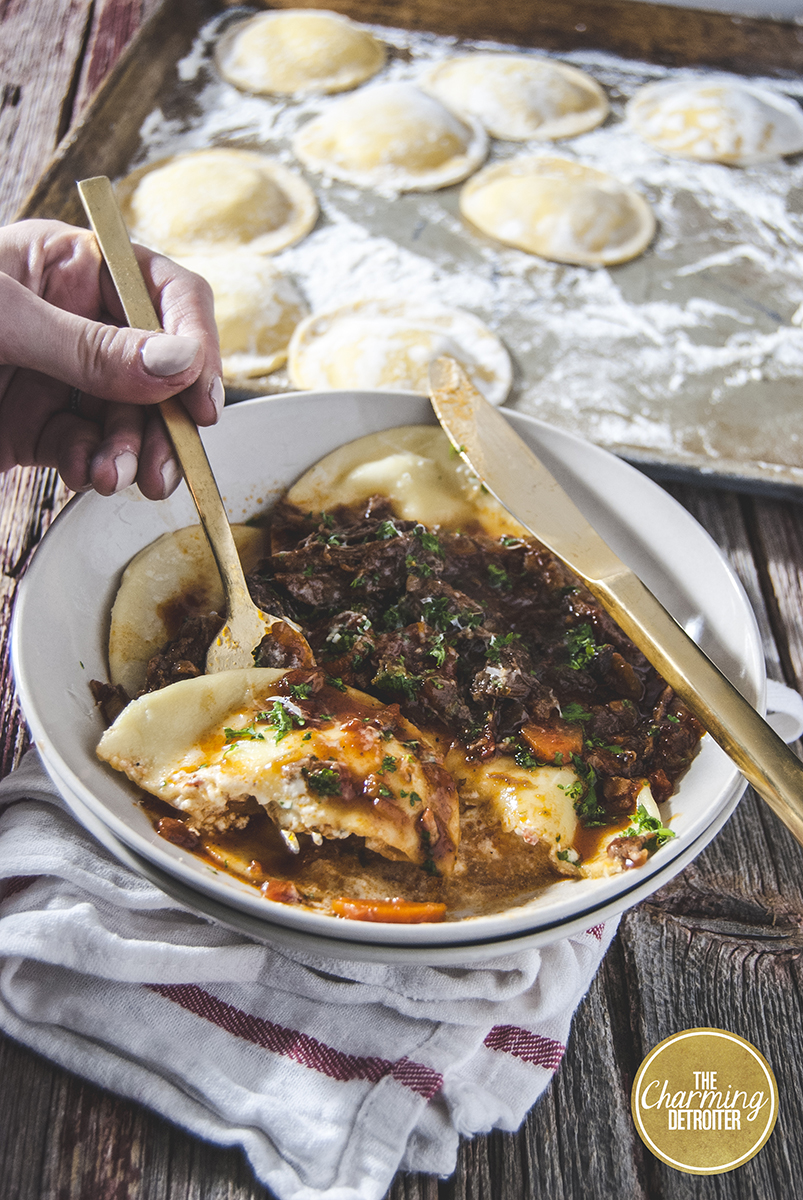 What are some of your favorite comfort foods this season? Share with me by commenting below!