These Mexican scrambled egg breakfast bowls are easy to prep in advance, and are packed full of goodies, like bacon, potatoes, sautéed peppers and onions, Mexican cheese and cilantro!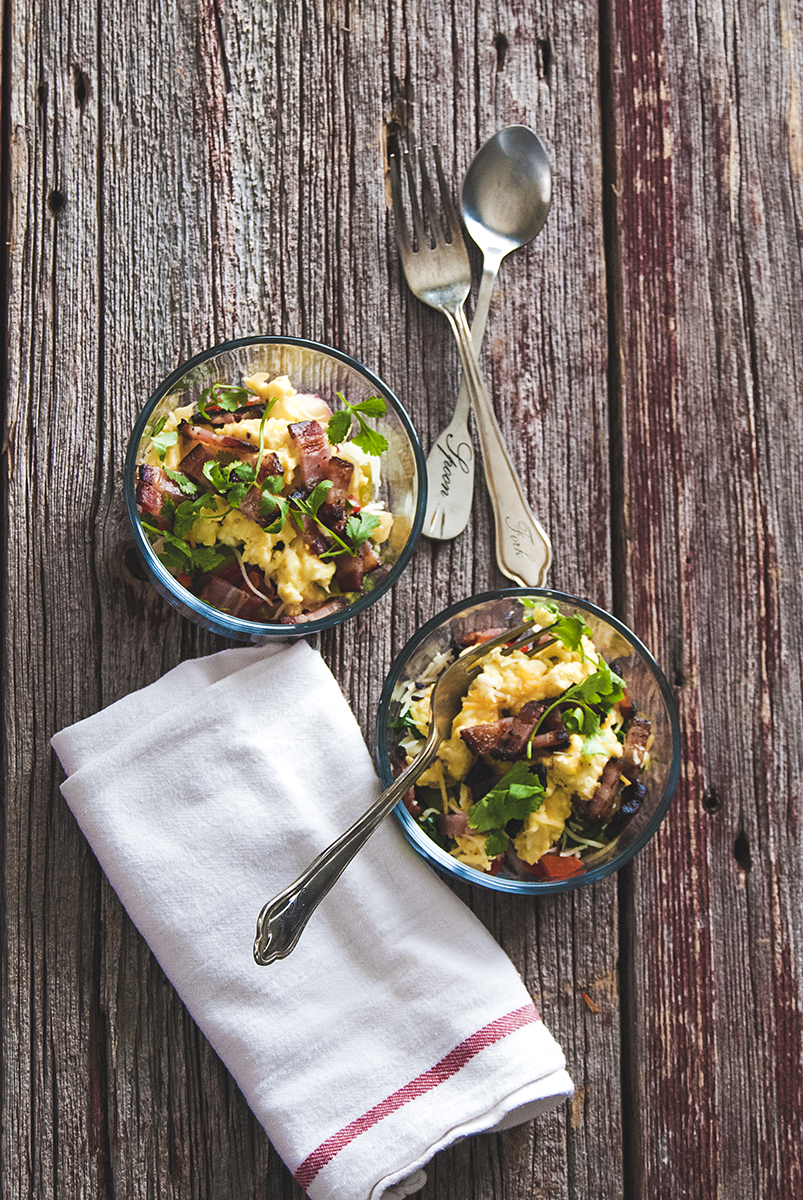 [RelatedDisclaimer]
So something crazy and exciting happened… we bought a new house! It still feels so surreal, but we closed on Wednesday and have been moving fiends the past few days (and still going at it strong – it's amazing how much stuff you can amass in a house!). It's been somewhat bittersweet: while we are so excited to start this new chapter in our lives, it is hard to leave our first home together, one where we shared so many memories, triumphs, and tribulations. We got engaged in this house, got married in this house, and rescued our two beautiful puppy girls in this house. We put so much time, energy, and love into this home, and we hope that the next family to live here will feel that love.
Related: Our Home Tour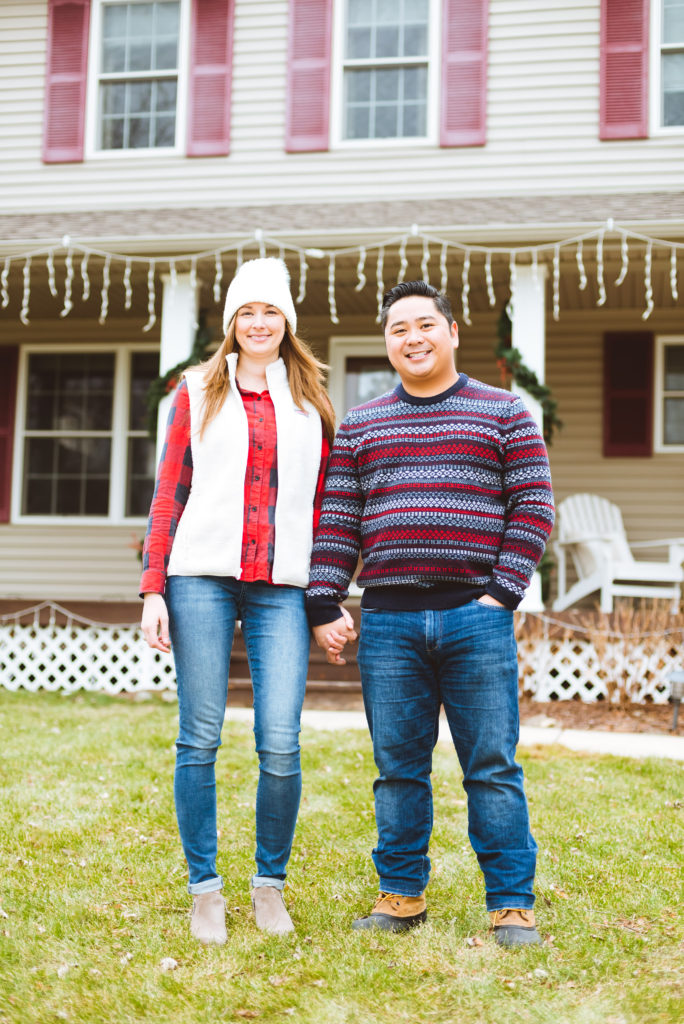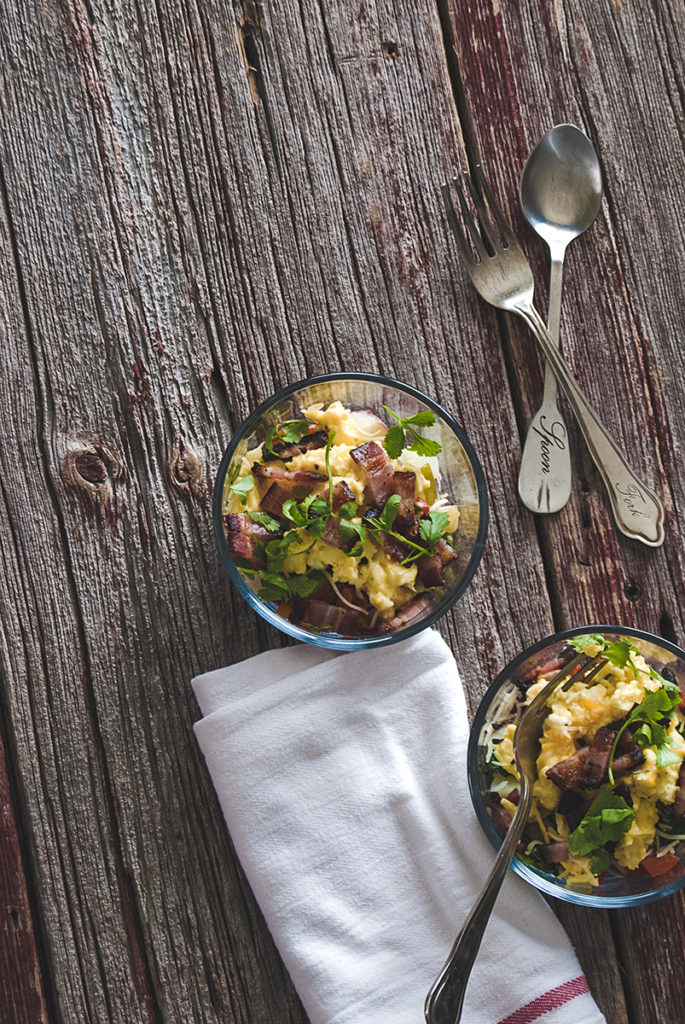 But with the new home comes a lot of new opportunities, and especially opportunities for renovations! Which I can't wait to dive into and share with y'all here on the blog! But today, I'm sharing another prep-ahead recipe, this time for a Mexican style scrambled eggs bowl!
Related: How to Make the Perfect Breakfast Burritos: Prep Yourself For Success All Week Long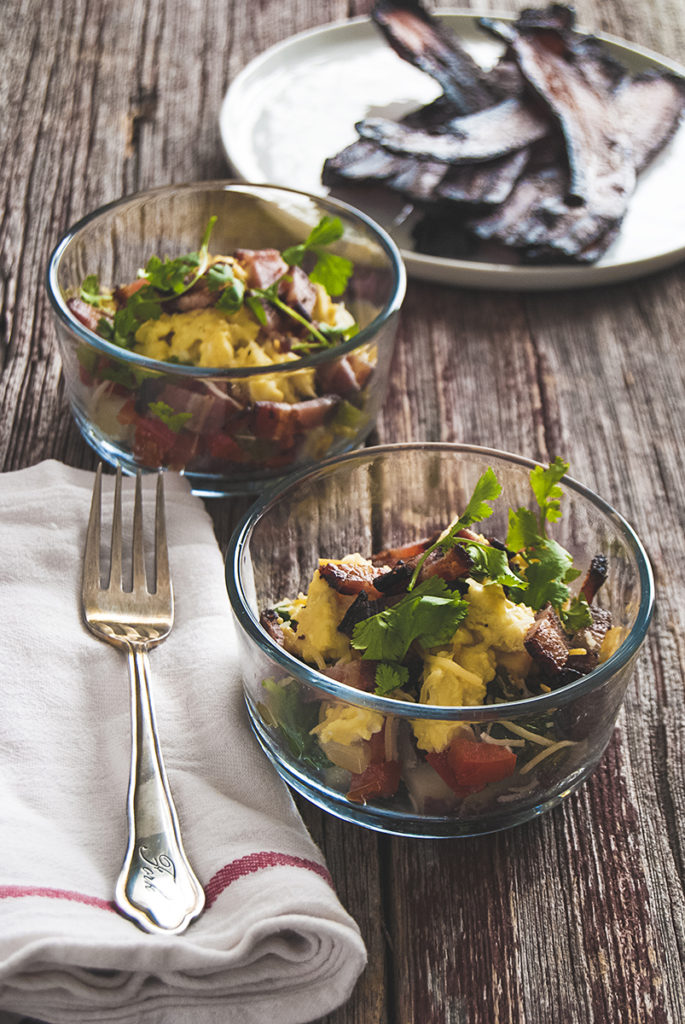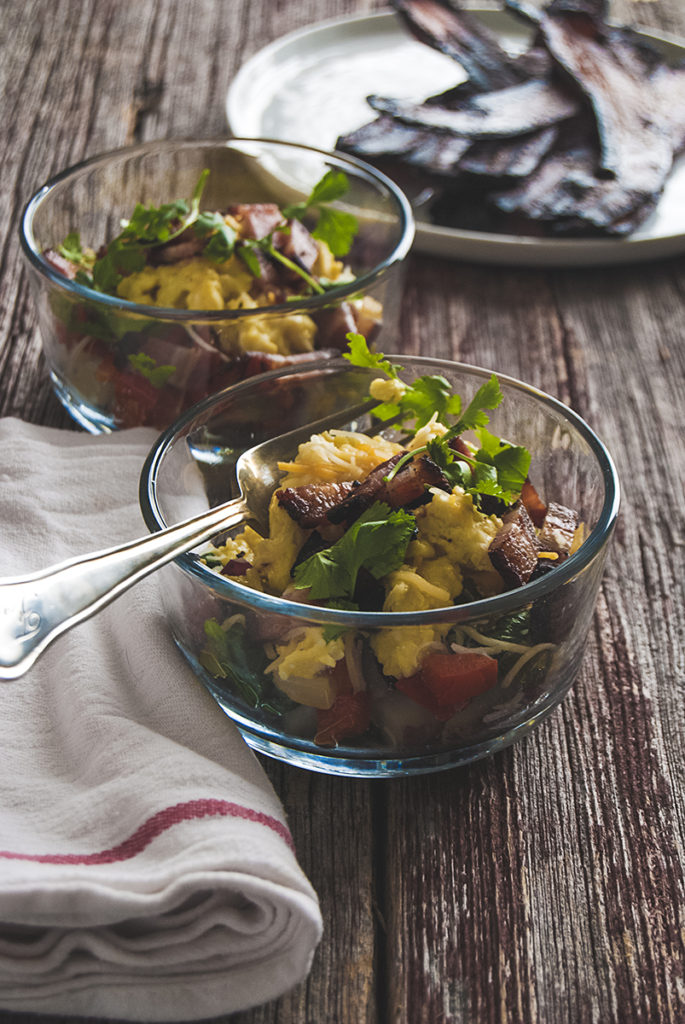 I love prep-ahead breakfasts, because they make mornings so much smoother. Protein is a big necessity for me and my husband in the morning, because it helps us to get the morning off to a good start and keep us full and satisfied through the long morning haul until lunch every day. Without it, I've usually got the "stomach rumbles" going on by about 10:30am!
Related: Make Ahead Breakfast Sandwiches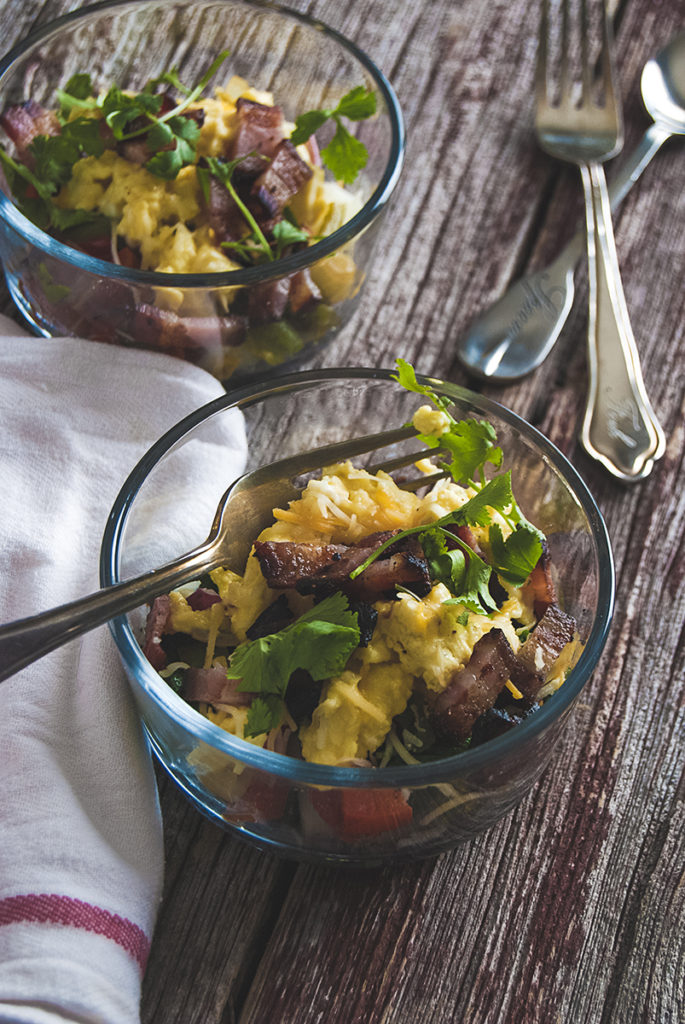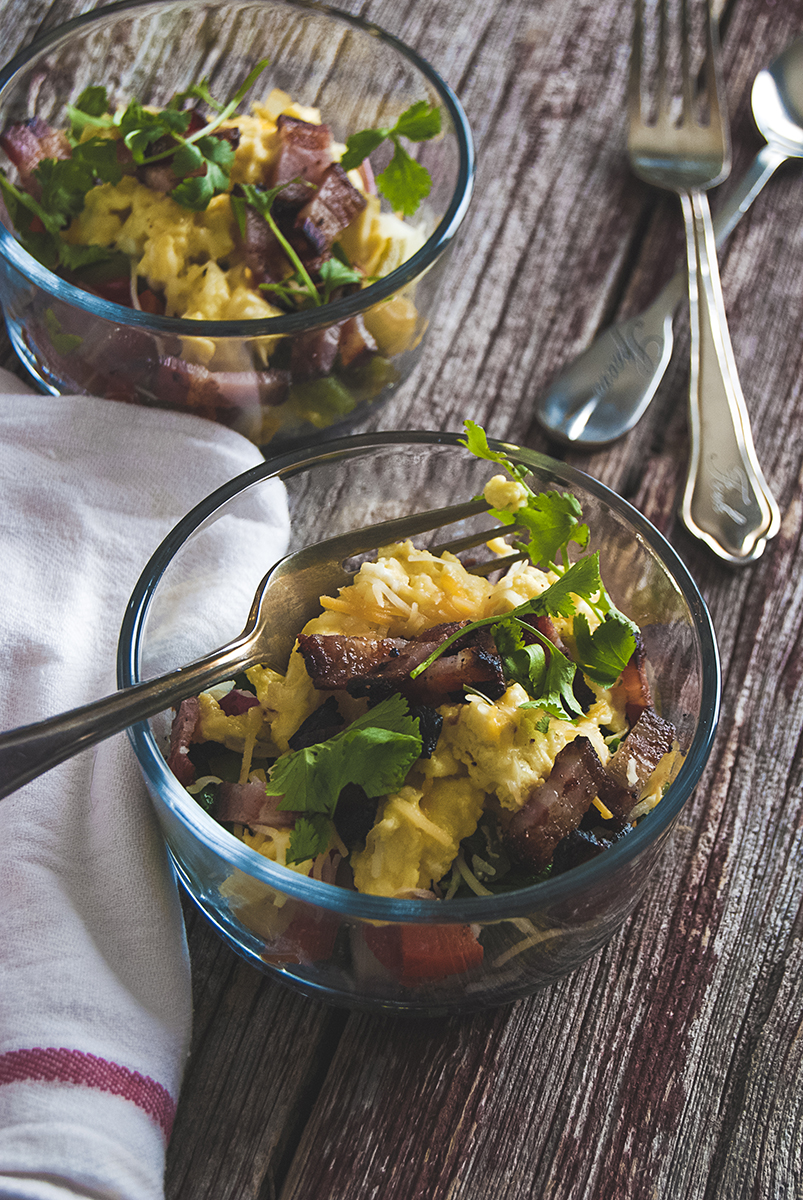 These bowls are a combination of all types of tasty Mexican flavors, all piled on top of a base of boiled potatoes. I sautéed some bell peppers and onions to top the potatoes with, and then scrambled up some nice, creamy eggs.
To prepare the bowls for the week, I set out ten small microwave-safe bowls and divided the potatoes, peppers and onions, and eggs evenly among the bowls. I then topped with cheese, bacon bits, and cilantro. And because I can't not have a carb in the morning, a small flour tortilla cut into bite-sized triangles is perfect for scooping up chunks of meat and potatoes!
Related: Garlic Fried Eggs with Kale Pesto, Toast Points, and Bacon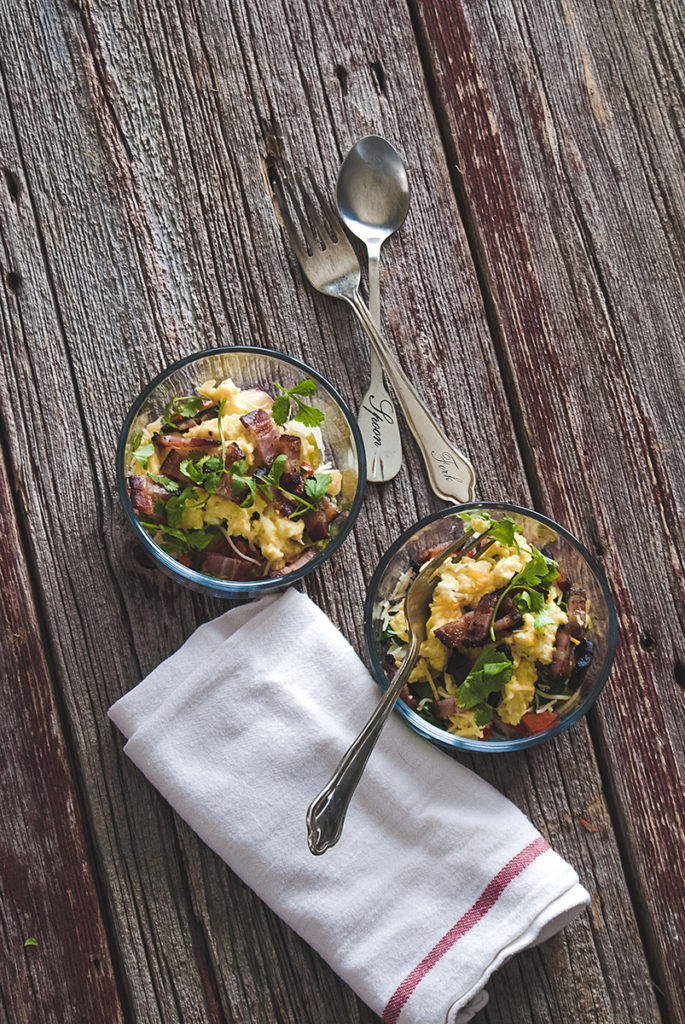 Now it's your turn: what is your favorite prep-ahead breakfast meal? Share with me by commenting below!