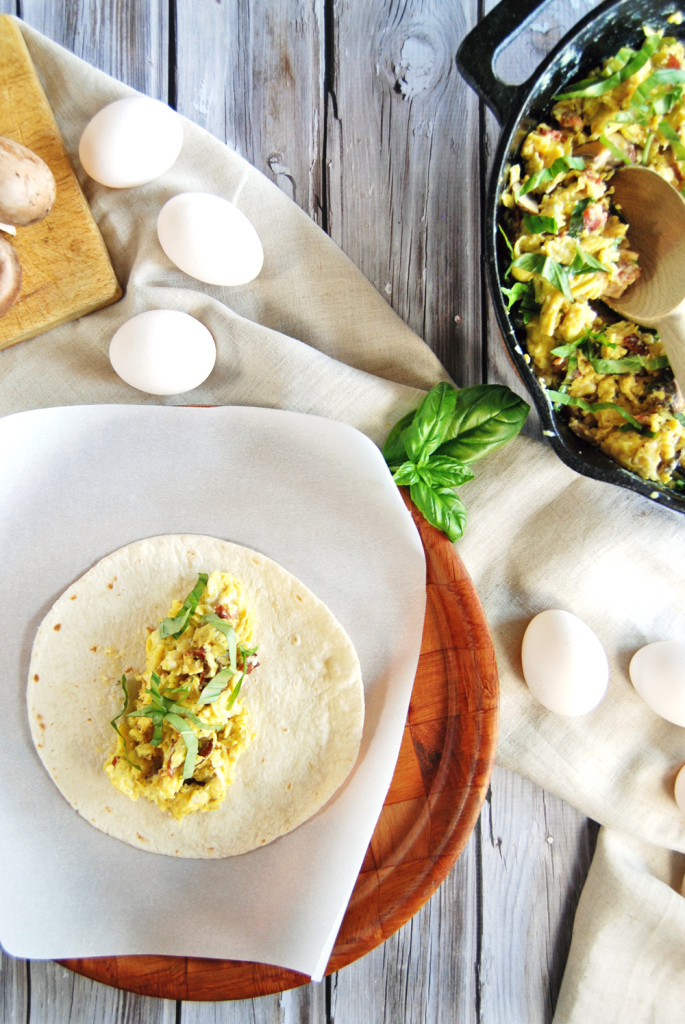 I am a breakfast person. We are breakfast people. If my fiancé wasn't a breakfast person… oh boy! It's part of the reason I love him. Pancakes, waffles, french toast, omelets, crepes, donuts. You name it: we love it! Breakfast is amazing because it sets you up for a great day of success, and hopefully loads you up with enough protein to last the whole morning. Which is why eggs and bacon is probably our breakfast food of choice.
But it's hard during the week when we have jobs, where some days I have to be at the hospital by 5am. Spending all morning in the operating room or the clinic or on the floors. Possibly not really getting a lunch break. What's a girl to do?
My solution: prep ahead breakfast burritos.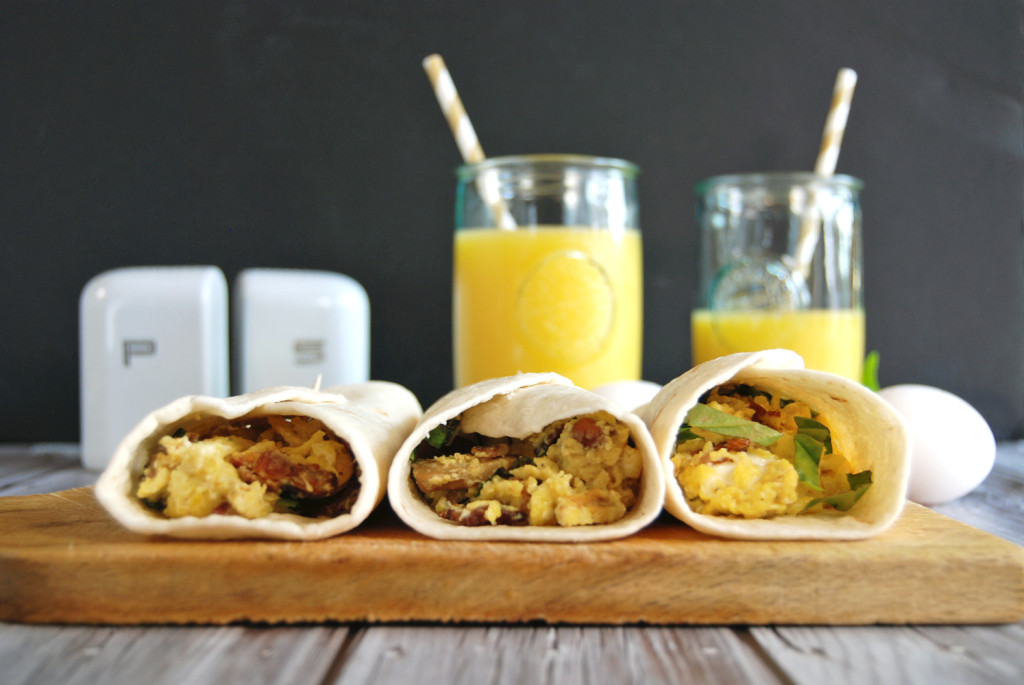 These breakfast burritos saved my life during my OBGYN and surgery rotations. On the days when I don't even have five minutes in the morning to eat a half decent meal of cereal or oatmeal, these burritos are ready in under a minute and easy to eat in the car on the way to work. Now, every Sunday, I prep our breakfast for the entire week by making a huge batch of scrambled eggs with cheese, bacon, and other veggies leftover from the past weeks' meals. One of my favorite combinations is eggs with bacon, goat cheese, mushrooms, and basil.
The goat cheese is so creamy when combined with the eggs, and I love the earthy flavor of the mushrooms contrasted against the salty porkiness of the bacon bits.
To store the burritos for the week, I divide the eggs among tortillas laid out on separate sheets of parchment paper and roll them up individually, storing them in the fridge. My morning breakfast routine is then as simple as popping one of these parchment wrapped burritos into the microwave for about 55 seconds and enjoying. The best part is that I get a decent amount of carbs and protein that allows me to stay on my feet for the next few hours until lunch! Because we all know how hangry I can get when my blood sugar drops. And by "we all", I mean my fiancé.
The best part about this recipe is that it's completely customizable to your taste preferences and whatever you have lying around the fridge. For the meat, I usually use bacon, however, I also love to use chorizo if we have any leftover. I use whatever cheese and vegetables that are leftover from cooking meals that week. Some of my other favorite cheeses for this recipe include American, cheddar, and gruyere. Other good vegetable options are onions, bell peppers, and green onions.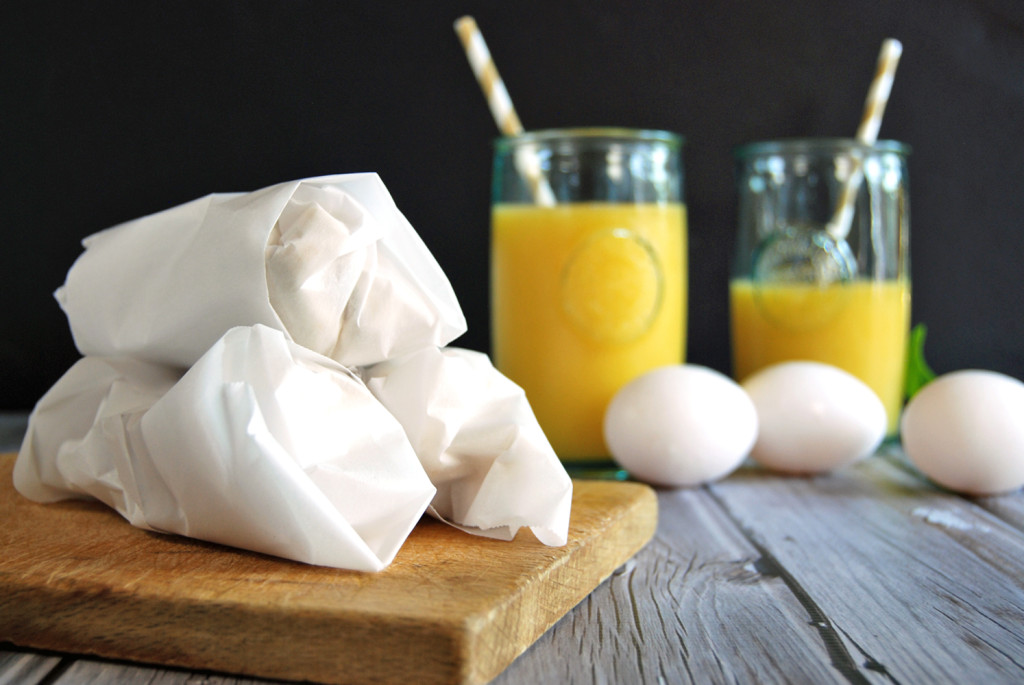 I hope you give these burritos a try! It is such a great way to guarantee a good, hearty breakfast on the go, and put you in a good mood right from the start of your day! Please tag #thecharmingdetroiter if you make this recipe, or comment below!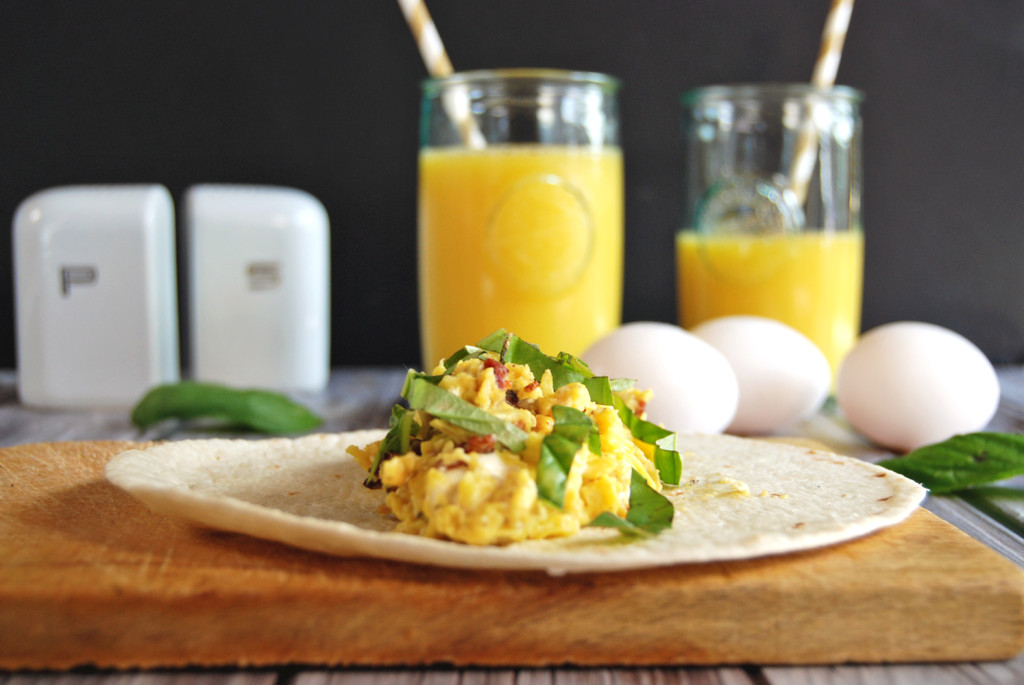 P.S. I know, I know, eggs and bacon almost every day? Here's why I'm okay with it:
It works out to 1.2 eggs per person per day. Eggs get a bad rap; they are loaded with protein and nutrients.
The bacon (when I use it) works out to one slice per person per day, but some weeks I substitute with chorizo or go without meat at all. That works out to about 0.867 grams of saturated fat per slice and a whole lot of tastiness, so… I'm okay with it. 🙂