Looking for a brunch recipe that will pack a huge flavor punch without too much time? Try my garlic fried eggs with kale pesto!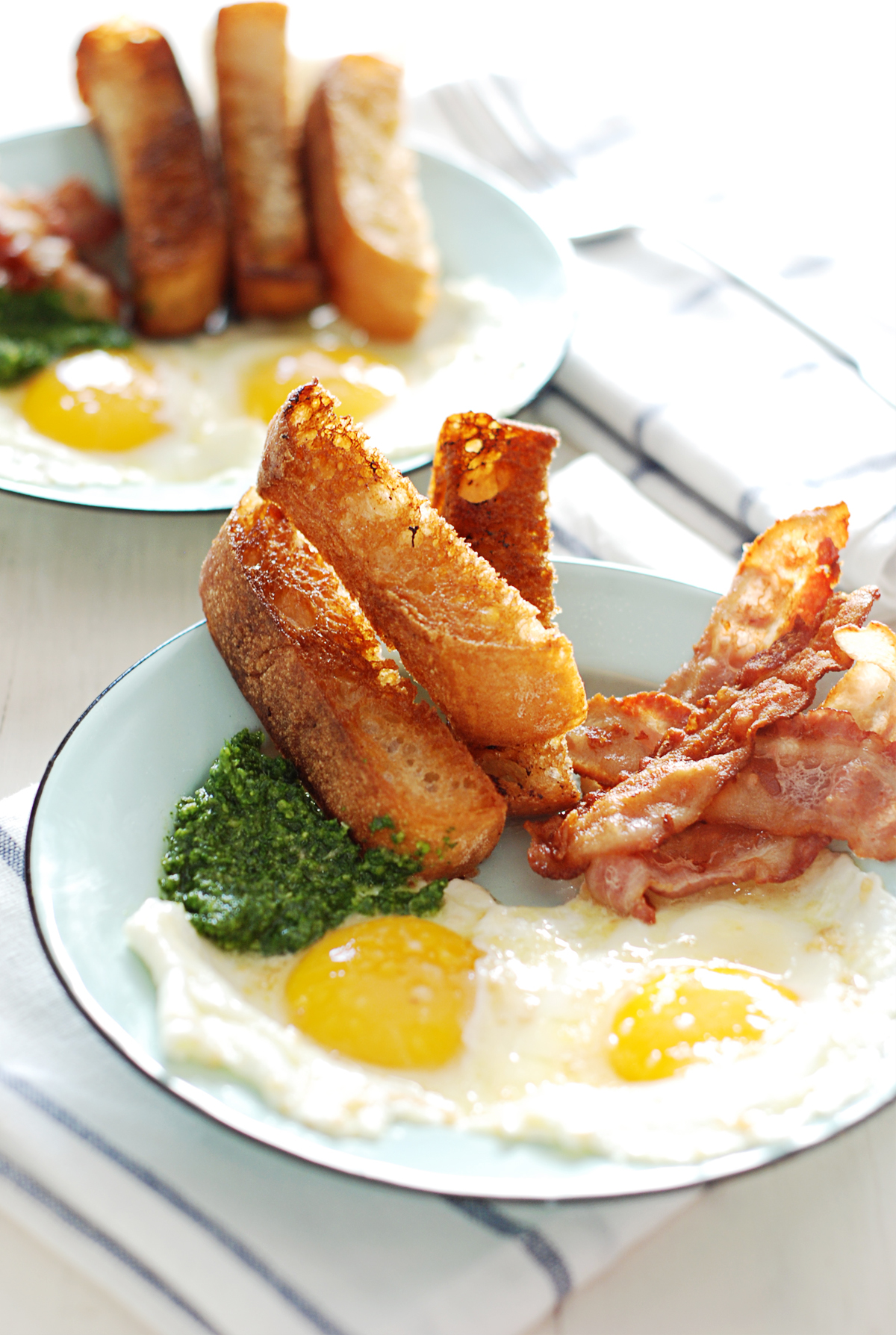 This post may contain affiliate links. Please click here to read my full disclosure policy.
If I had to pick one food I couldn't live without, it'd probably have to be eggs. I mean think about it: they make up so much of what we eat, including what we bake. And a good egg recipe is pretty much a prerequisite for a delicious brunch in our household! We even make breakfast burritos with scrambled eggs in them every week because even in our busy hectic day-to-day lives, a protein-packed breakfast makes for a more productive day.
Related: Prep Yourself for a Week of Success with Breakfast Burritos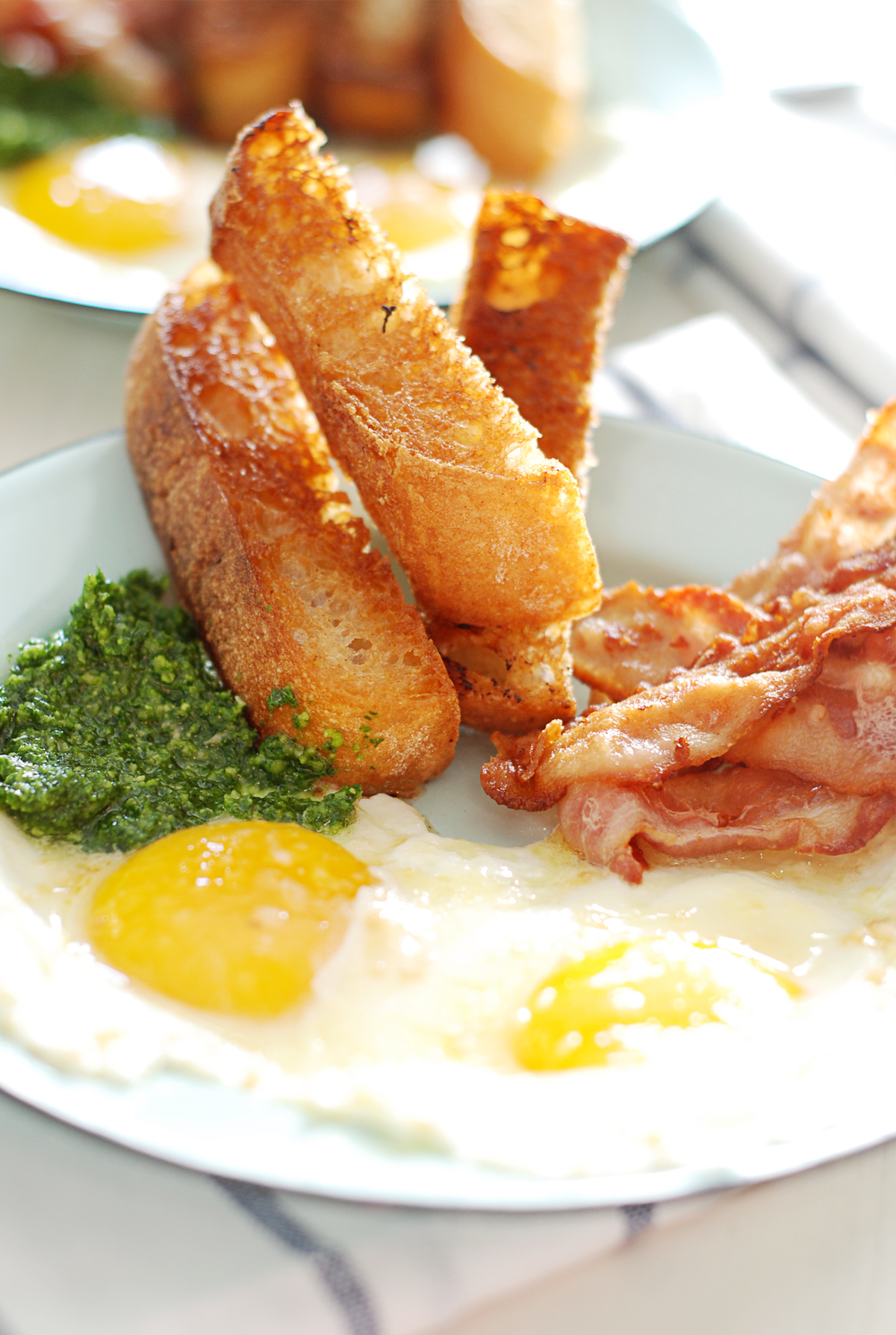 These garlic fried eggs with kale pesto are another great, simple brunch idea featuring the deliciousness that is eggs. These ones are fried sunny side up in… garlic butter. Yes, a bunch of garlic fried until golden brown and fragrant in some butter… and then you coat your eggs in it. Amazing.
With this technique, it's all about the basting. You want to use a small spoon to scoop up as much garlicky goodness from the bottom of the pan as possible and drizzle it over the top of the eggs. The hot butter will help to cook the egg whites from the top so that you end up with perfectly runny sunny side up egg yolks, but whites that are fully cooked. Plus, the garlic imparts a delicious kick to the eggs. Yum!
Equally tasty are the sides I've paired these eggs with. Everyone loves pesto, but what about kale pesto with breakfast? Yes, try it. Right now. You know you want to. A lemony vinaigrette featuring bacon fat drizzled over top completes the dish, and buttery toast points and crispy bacon strips are the perfect vessels for soaking up all that yolky goodness.
Related: Baked Egg Breakfast Tarts with Prosciutto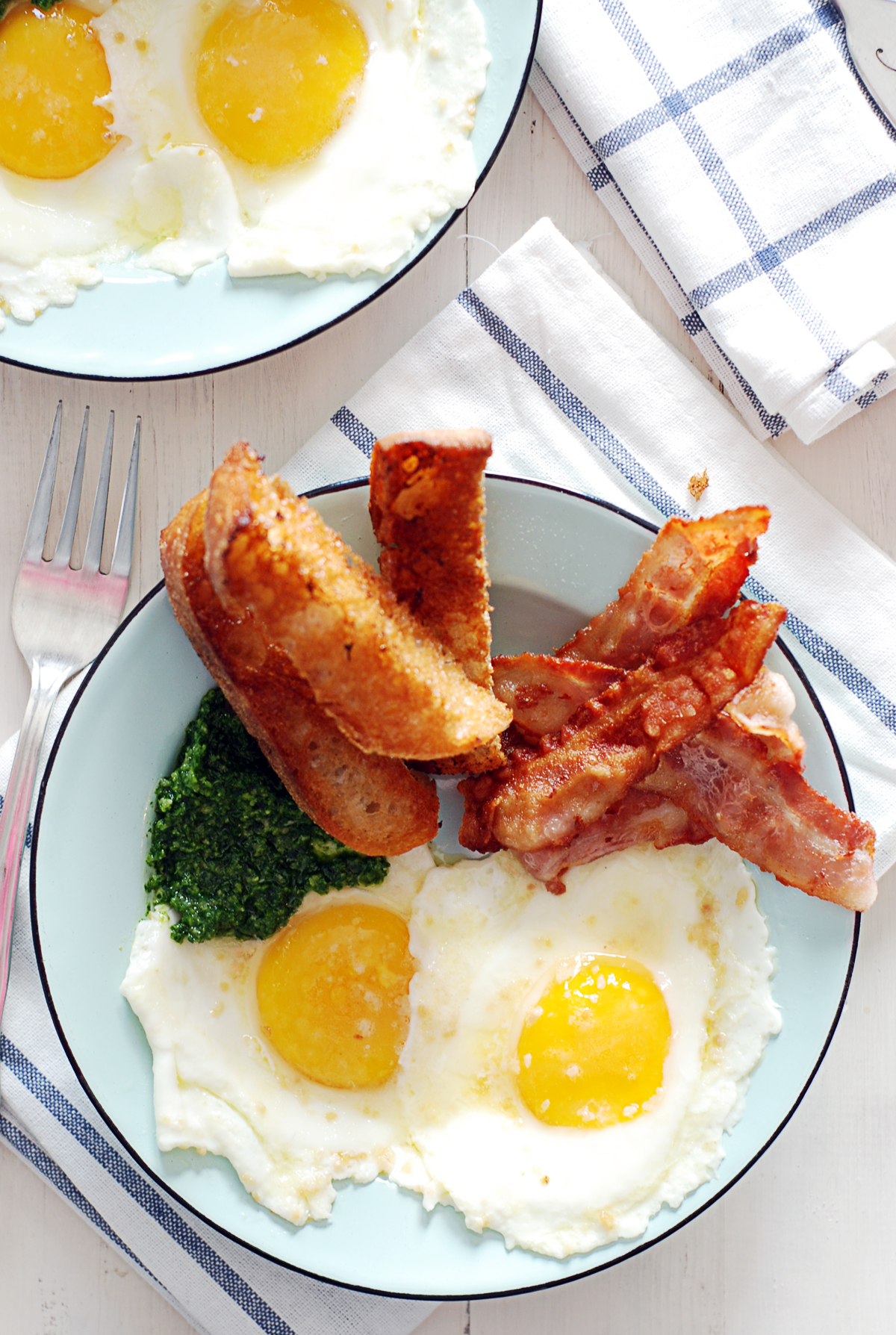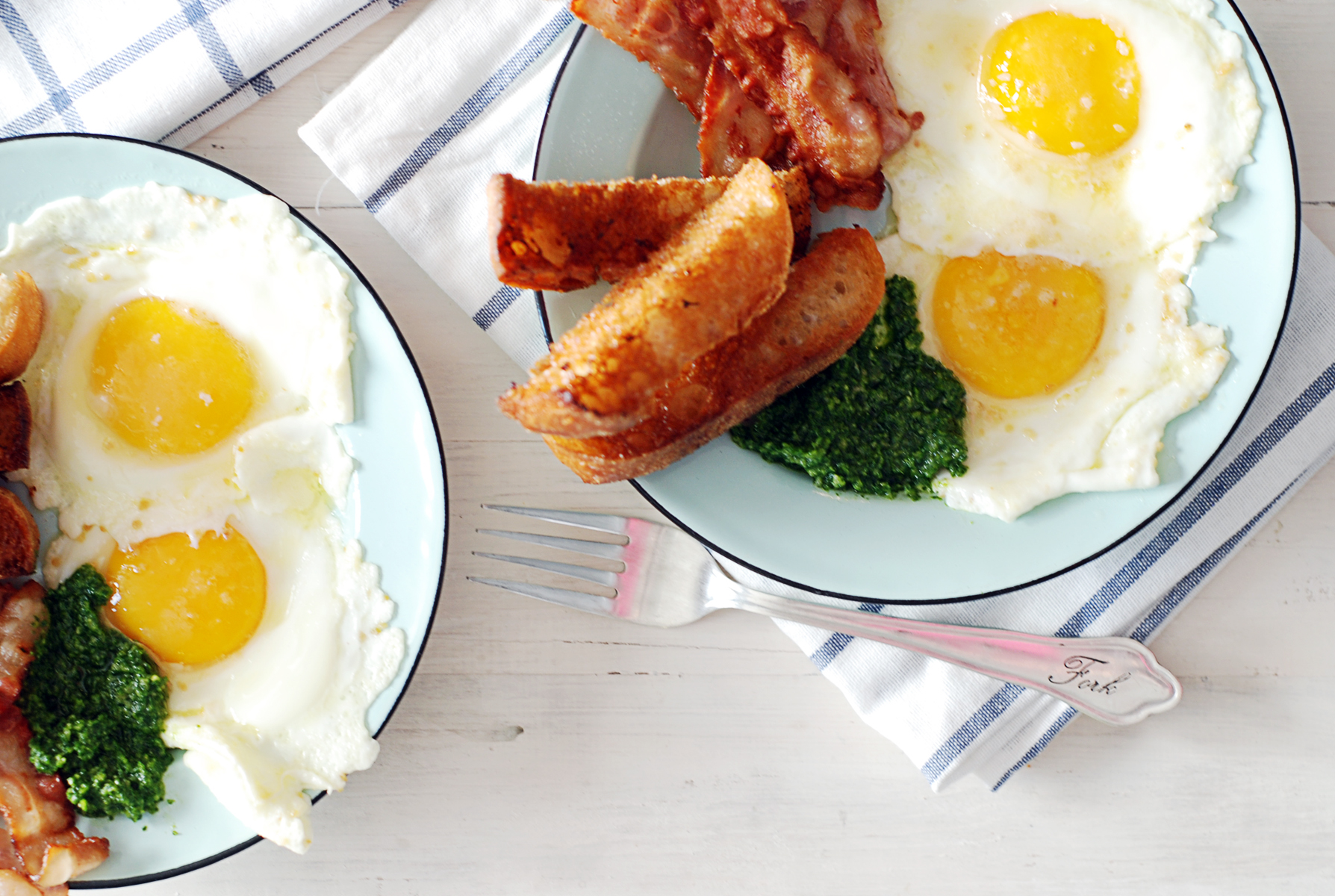 Now it's your turn: what is your favorite way to prepare eggs for brunch? Let me know by commenting below!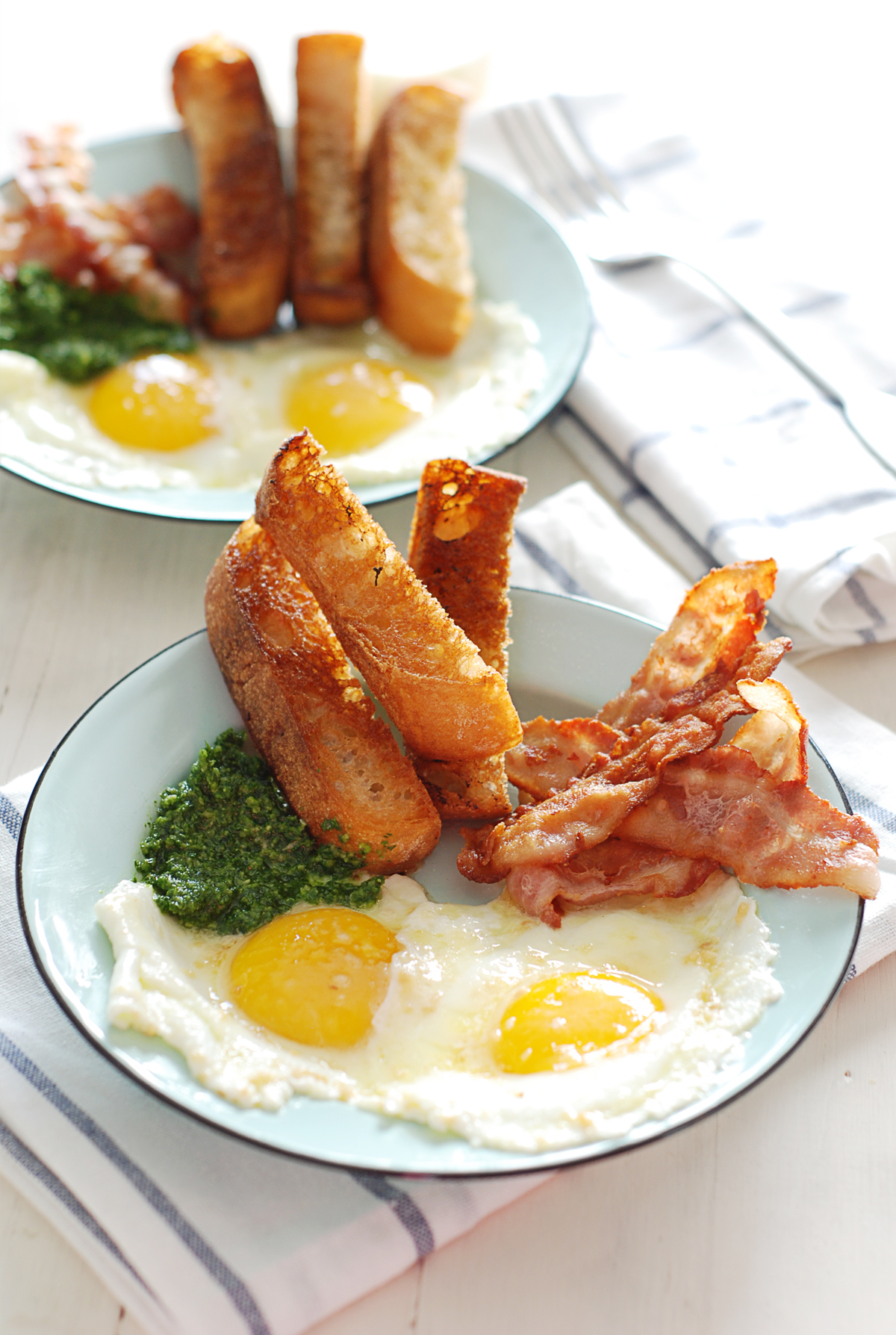 [optin-cat id="1965″]