This roasted beet tart makes the perfect fall side dish, with beautiful deep red and golden beets, candied pistachios, goat cheese, and arugula salad.
This post may contain affiliate links. Please click here to read my full disclosure policy.
Our garden went totally crazy this year. We had more tomatoes, banana peppers, Hungarian wax peppers, kale, and beets than we knew what to do with. In fact, the kale is still going strong, despite the first frosts we have had in the past week! I've been making sun-dried tomatoes and pickled peppers for salads, just so all these veggies don't go to waste!
Related: Goat Cheese, Shallots, and Roasted Beet Pizza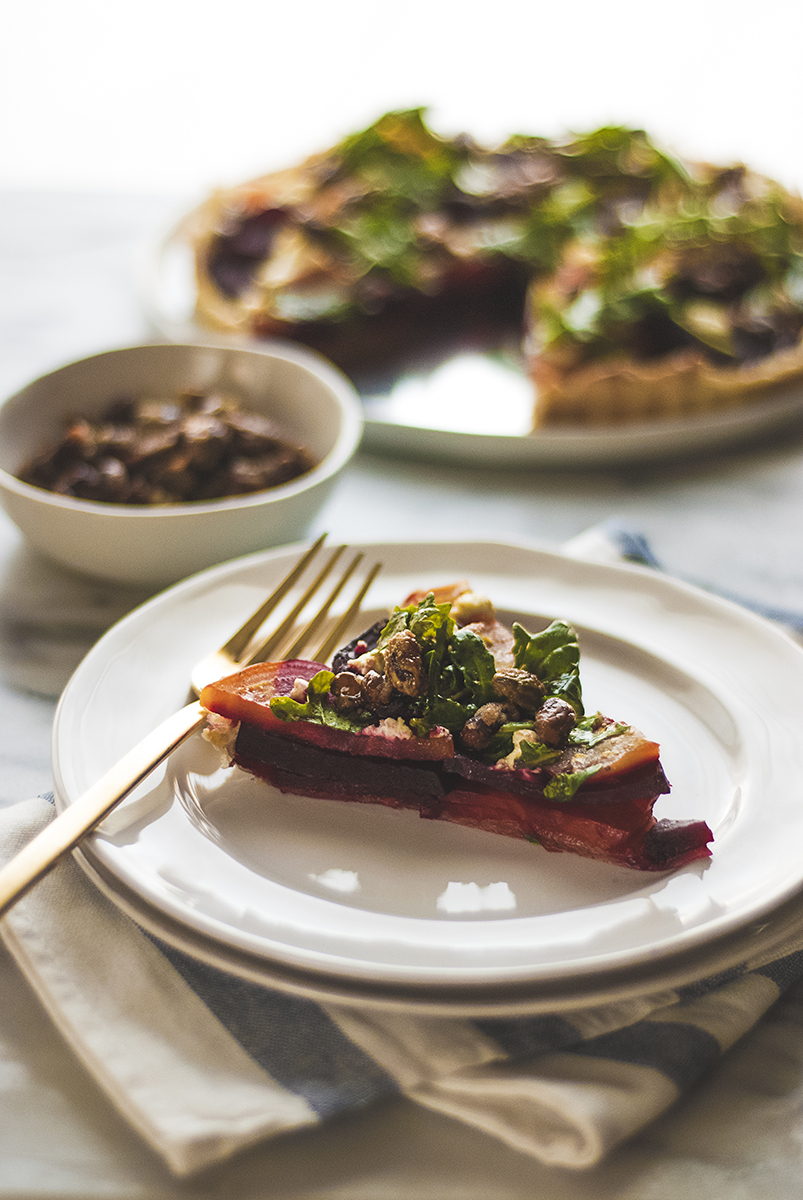 But naturally, the beets were no problem to use! They are one of my favorite vegetables, and roasting them turns them into this creamy dreamy delight that adds a hearty bite to any dish. As the holidays are swiftly and surely approaching, I wanted to make these into a delicious tart that would look simply beautiful on any table this holiday season!
Related: Shredded Brussel Sprouts with Bacon and Balsamic Glaze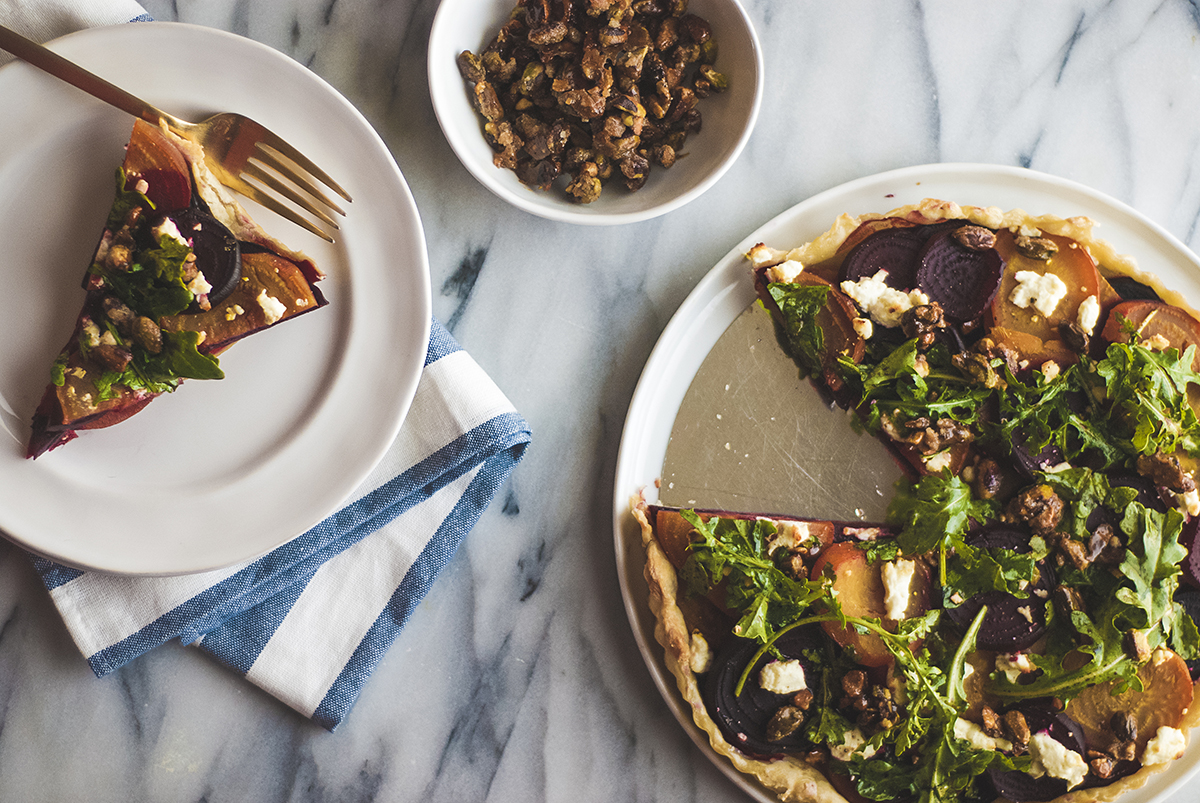 I first roasted the beets in the oven at 400 degrees Fahrenheit until they get fork tender. This usually takes about 75-90 minutes, depending on the size of the beets. If you have larger beets, wrap them in tin foil individually before placing them in the oven, but if you have smaller beets you can put 2-3 of them in the same piece of tin foil so they cook as evenly as the larger beets. You can use whichever colored beets you would like, but I love the contrasting colors between the red beets and golden beets, so I used both here.
Related: Herbed Goat Cheese Crostini with Roasted Beets and Arugula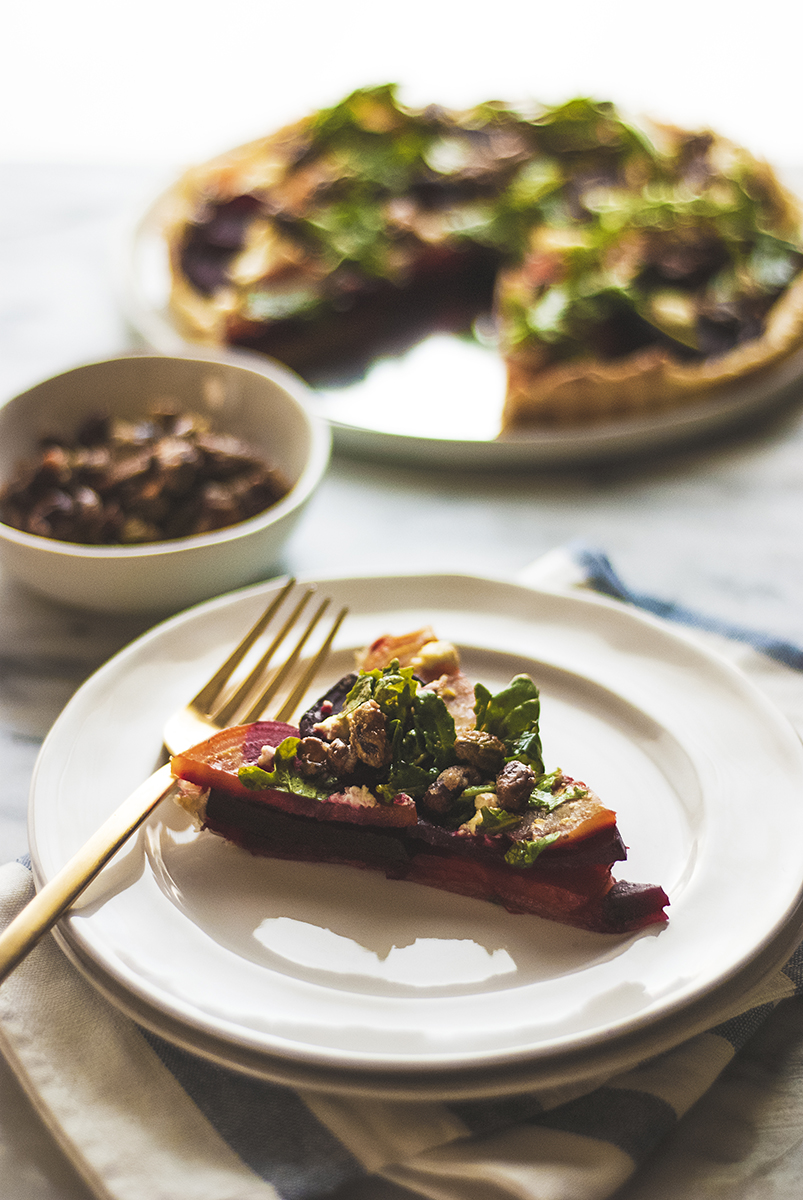 Beets go beautifully with the classic arugula, goat cheese, and balsamic flavor combination, so I didn't stray too far from that winning formula here. I did add a new obsession of mine: candied pistachios. I could eat those suckers all day long, no problem (except of course for the $20+ per pound price tag… yikes)! Because of the expense of pistachios these days, I used just a small amount of them in this recipe (half a cup) but you could easily substitute walnuts and candy them in the same fashion.
Now it's your turn: What is your favorite way to prepare beets? Share with me by commenting below!