Pesto macaroni and cheese is what you need in your life! A creamy white cheddar base with pesto, chicken, orecchiette, cherry tomatoes, and mushrooms.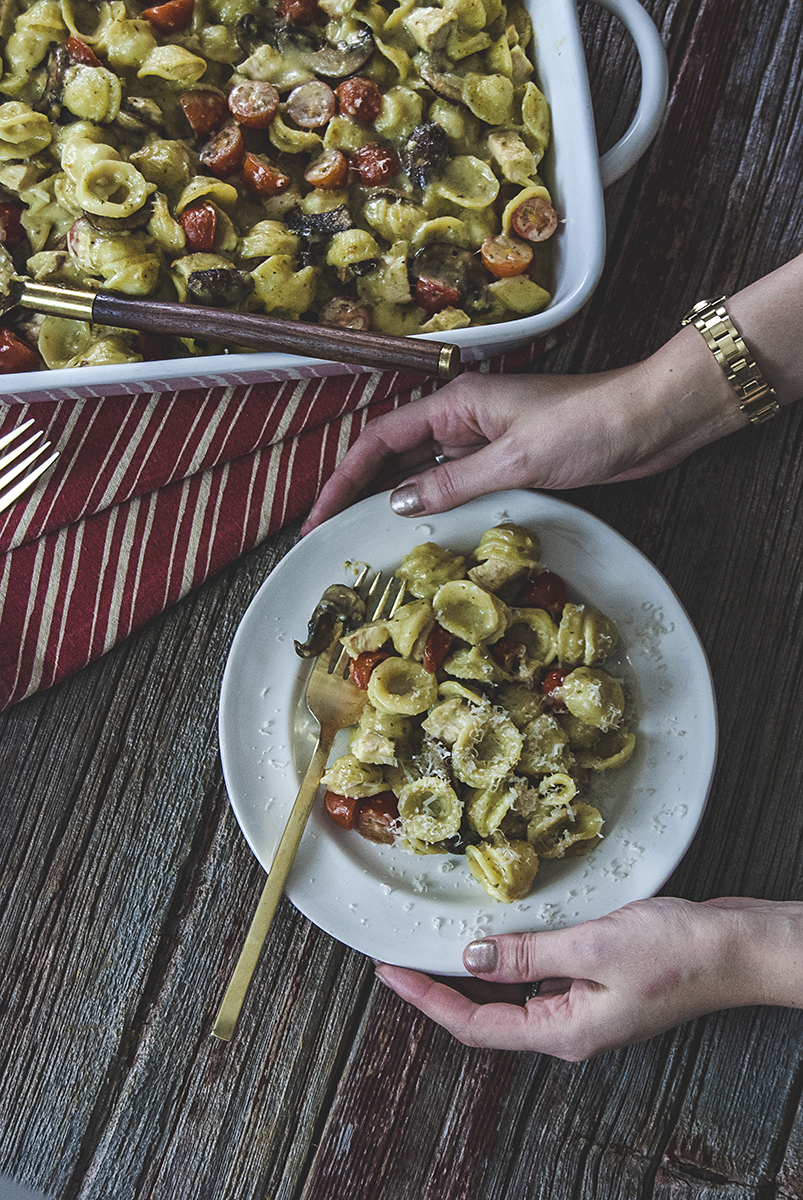 This post may contain affiliate links. Please click here to read my full disclosure policy.
Wow, life has been hectic! Between work, family, home life, and more work, it's been hard to find the time to post as regularly as I would like to. I hope that this tasty, tast-Y recipe today will make up for the lack of consistency in posts lately around here! I have some exciting news to share coming soon, hence the reason for being so absent lately!
Related: Creamy Kale Pesto Bucatini with Prosciutto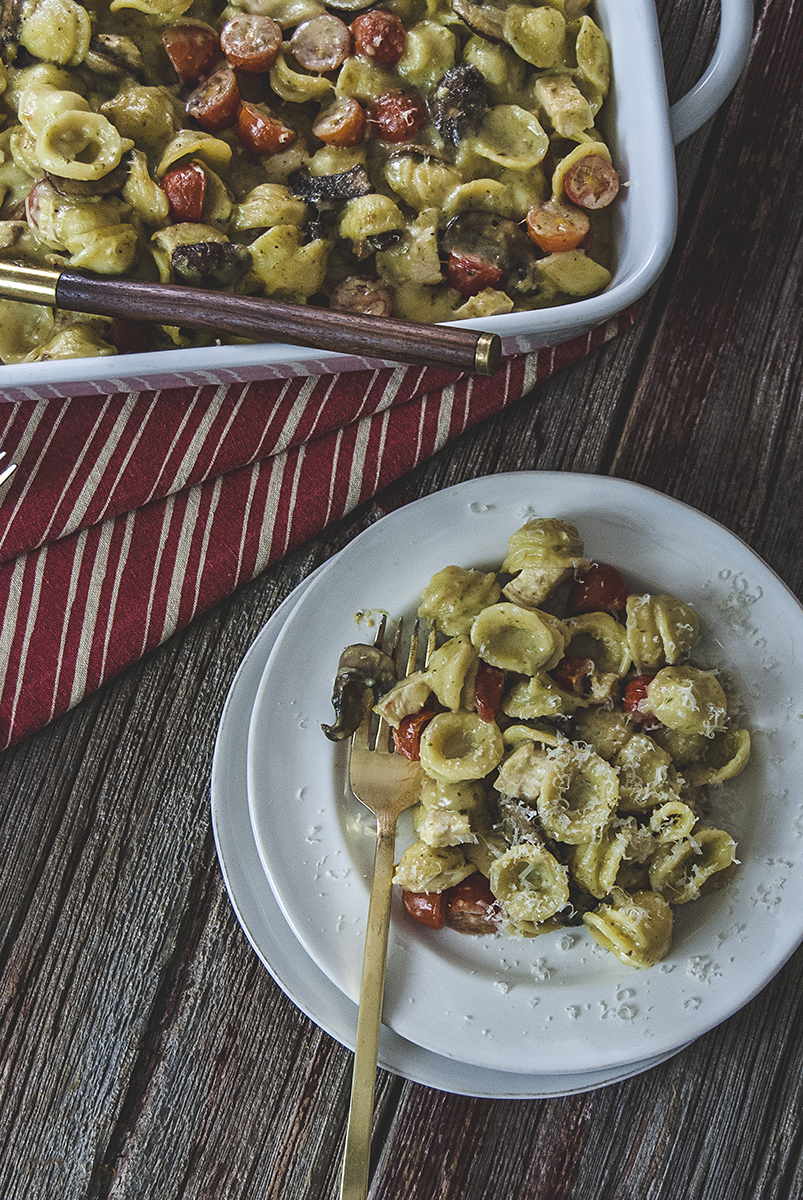 If this casserole doesn't become a regular staple on your weekly menus, I don't know what will! It's got all that bright flavor of a pesto pasta with that cheesy, creamy goodness that is macaroni and cheese!
Related: Baked Crawfish Mac and Cheese
First, we start off searing some chicken breast and sautéing some mushrooms in a pan with olive oil and butter. Once those are finished cooking, set them aside and begin the main event: the cheeeeeese sauce! Start by sautéing the shallots and garlic until they are nice and caramelized, and your kitchen smells just delish. Then make a roux with some flour, and add milk, allowing to simmer until it begins to thicken. Then you get to do my favorite part: adding all that pesto and cheese! (White cheddar, to be exact!)
Related: Arugula Pesto Couscous Salad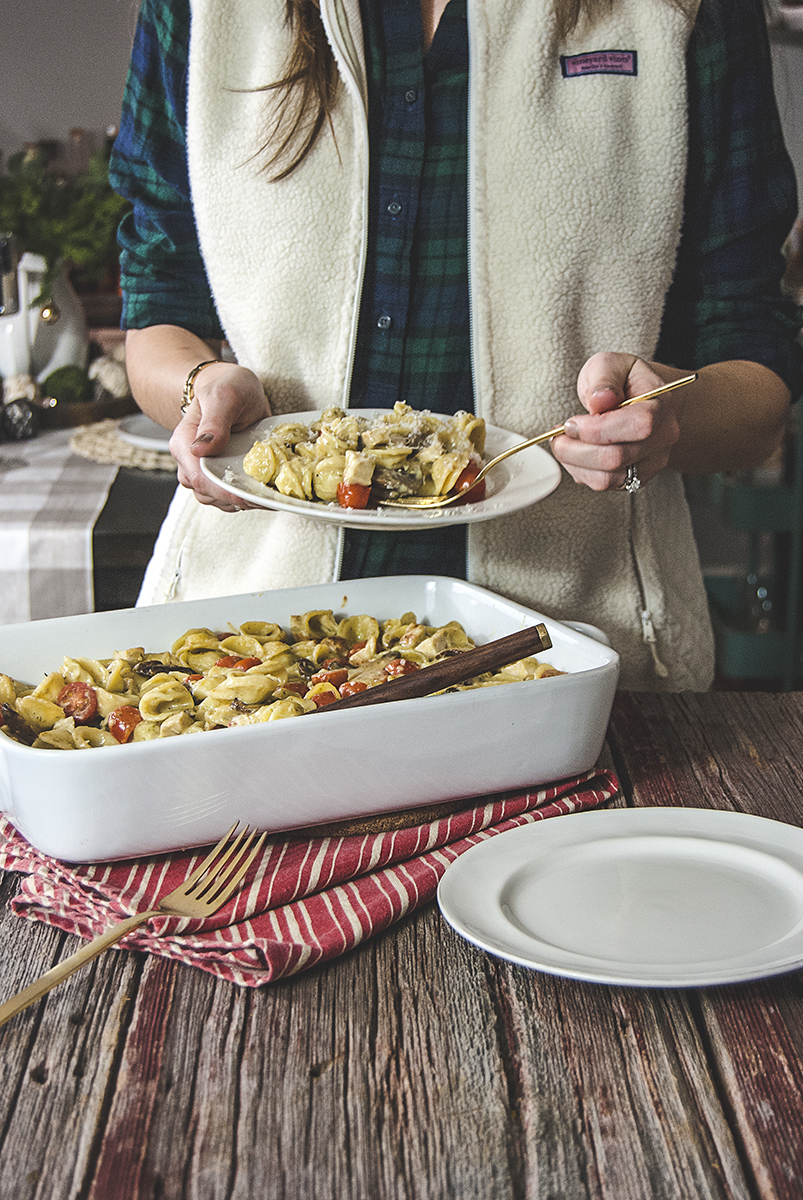 After cooking the orecchiette, you'll combine all these tasty ingredients with the cherry tomatoes and then throw it into a casserole dish before covering with even more cheese (Parmesan this time!) and baking for 20 minutes. I mean this dish is so pesto-y and chees-y that even my non-pasta-loving husband (gasp!) requested it be put on the menu plan again. And that happens like mayyyyybe twice a year when it comes to pasta dishes.
Related: Garlic Fried Eggs with Kale Pesto, Toast Points, and Bacon
Now it's your turn: What is your favorite easy casserole dish for weeknight cooking? Share with me by commenting below! And remember to stay tuned for some exciting news coming soon…