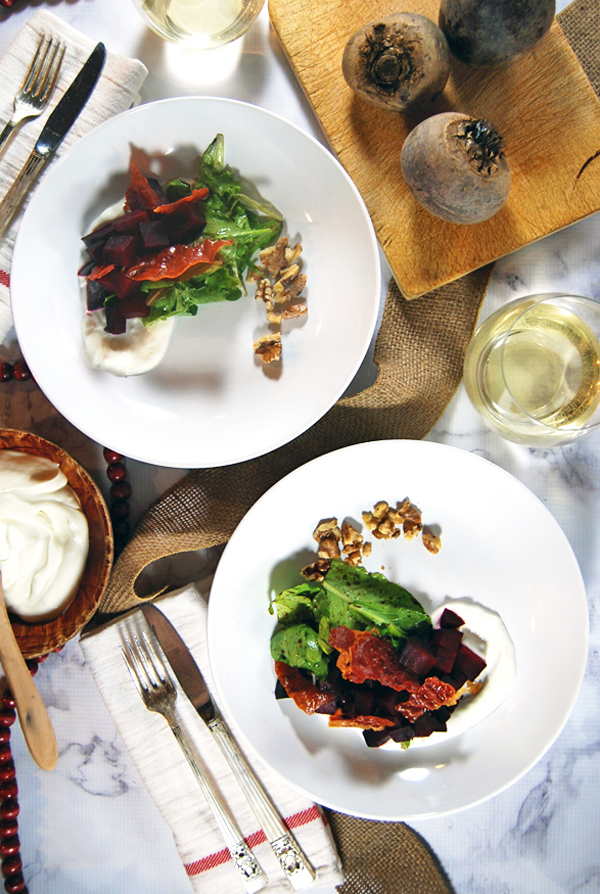 I have a secret. Basically, it's something that I'm crazy addicted to. Like a can't-live-without-them-in-my-life addiction, or a might-sell-my-firstborn-child-for-it-if-I-had-to addiction. It's oven roasted beets, my friends. Especially when they are paired with such a perfect flavor combination as they are in this oven roasted beet salad with goat cheese crema and crispy (I mean CRISPY) prosciutto! You'd have to be insane to not continue reading the rest of this post…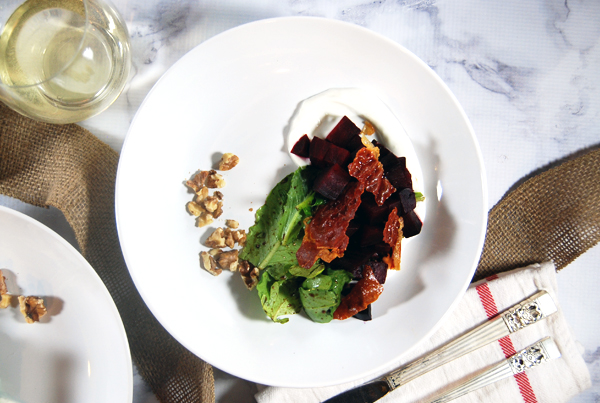 I think what I love most about beets is that it is so incredibly easy to take this simple root vegetable and elevate into something insanely delicious just by wrapping them in tin foil and roasting them for an hour and a half. Not to mention that in terms of color, they've just about got every other vegetable beet. I mean beat.
Related: Herbed Goat Cheese Crostini with Roasted Beets and Arugula.
And if there is one thing that goes hand-in-hand with beets, it's goat cheese. I wanted to keep this recipe a little lighter, so instead of going for a warm cooked sauce made with goat cheese, I opted for a crema with added goat cheese to make it salty and tangy. It meshes beautifully with the other components of the dish.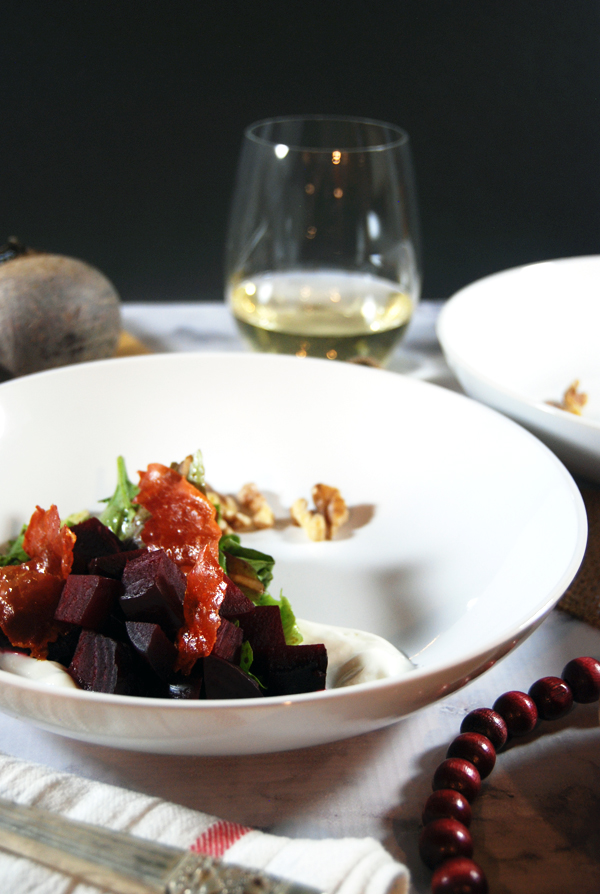 The green component of the dish is in the baby spring greens, which are lightly tossed with a simple balsamic vinaigrette. The dish is finished with toasted walnuts as well as prosciutto, in the best way possible: I take thinly sliced prosciutto and place it on a baking sheet under the broiler for just a few minutes. It toasts up nice and crispy and you can just break it into pieces to add some dimension (and salty pork flavor 🙂 ) to the dish. Perfect! I will definitely be using that trick in recipes to come!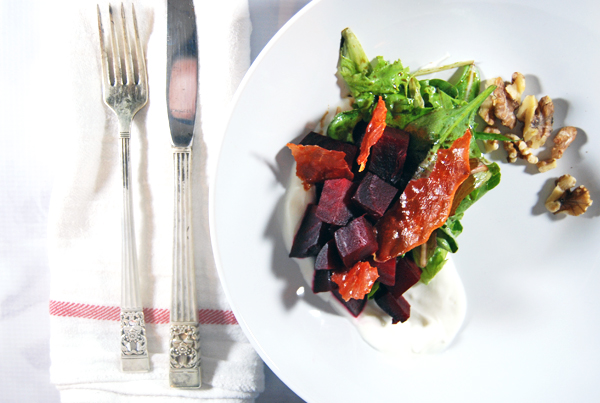 I would also like to note that you do not need to plate it all fancy like I did for these photos. While some of us may prefer it that way, it also tastes just as good all mixed together in a tupperware container – which is how my fiancé likes to eat this dish. Sorry babe, I had to share!
Now it's your turn: I would love if you would share with me your favorite way to make beets! Please comment below and link to your recipe, or even better: make your favorite recipe and post it on Instagram! Don't forget to tag @thecharmingdetroiter for a chance to be featured!