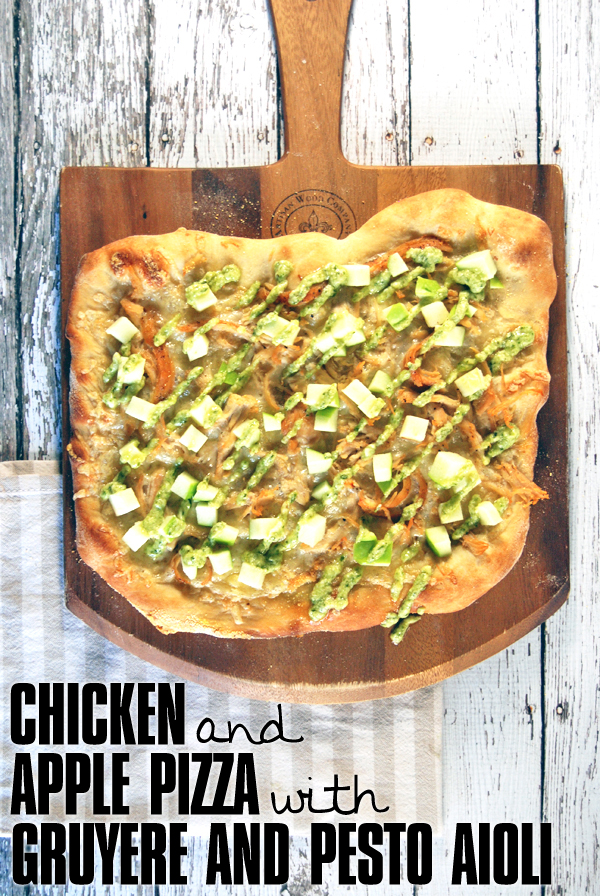 When I first moved out of my parents house and was living on my own, I was just beginning to find my love for cooking. But I was also a student, and about to start medical school (aka a full time job!) and needed fast, easy, delicious meals that I could throw together in between blocks of studying. One of my favorites from my parents' repertoire of quick and easy meals was a simple toasted sandwich of sautéed chicken breast, apple slices, pesto, and mayonnaise. So easy right? And so delicious!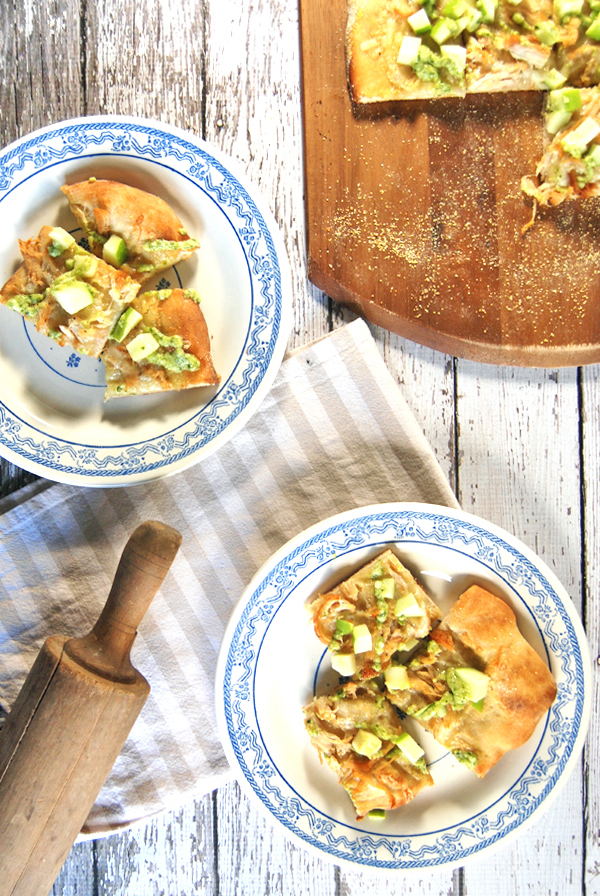 And what's better than a yummy sandwich? A crispy thin-crust pizza! The sandwich ingredients marry so well together, and so I thought, "why not try these ingredients out on a pizza?"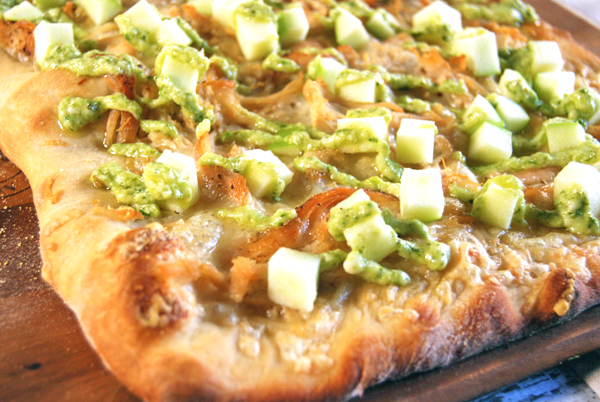 When it came to choosing a cheese to fit in with this flavor combo, I instantly thought of gruyere. It is a great melting cheese, and has a beautifully creamy and nutty flavor that works as the perfect backdrop for shredded chicken and crisp granny smith apple.
I have two tips for making this recipe:
Get store-bought pizza dough if you can! I know, I know, how terrible. But trust me, we have made countless batches of totally delicious homemade pizza dough, and sometimes it is really nice to be able to just pull a batch out of the fridge and roll it out instead of having to whip one up when you get home from work, or the night before. So while of course I support homemade pizza dough, I also am a big fan of finding shortcuts for easy meals when necessary!
If you have a Kitchenaid mixer, use it to shred your chicken! Place the entire cooked boneless skinless chicken breast in the bowl of your mixer with the paddle attachment. Turn it on to a medium speed, such as 4 or 5. Let it run for about 30-45 seconds, or until the chicken is shredded to your liking. So easy!
That's all for now, thanks for reading friends! Please comment below if you try this pizza recipe, or let me know with the hashtag #thecharmingdetroiter on Instagram!
Don't miss a single pizza recipe:
[optin-cat id="1965″]
And check out these pizza recipes:
Related posts: