A recipe for simple homemade potato and carrot gnocchi, paired with a classic browned butter and sage sauce.
This post may contain affiliate links. Please click here to read my full disclosure policy.
I saw my first few snow flurries earlier this week. As I was walking across the medical campus, tightly bundled up in my jacket, scarf and gloves, and on my way to get my flu shot, they started to fall.
It's a uniquely angelic thing, seeing those first few flakes. It didn't stick, it didn't accumulate, but it means a change is in the air: the holidays are coming. That means lots of delicious food and drink, precious time spent with family and friends, and a perfectly crisp, white blanket that covers the landscape. It's as if the snow is preparing that which is underneath for a brand new beginning.
Related: Crispy Gnocchi with Clams and Panko
You should really see the menu plan I've got for this upcoming week. I am entering into November in full on holiday mode, no pumping the breaks here. I'm making stews, and casseroles, and coq au vin, and using my Le Creuset on an almost daily basis. I'm making these pumpkin chocolate chip muffins, because… obvi. I'm drinking Greek wine and bourbon cocktails, and snuggling up with my hubby and the girls on the sofa afterwards. It's the best time of the year!
And these gnocchi are right up there with all the other tasty comfort food: handmade and homemade and plump and scrumptious. What better way to celebrate the fall than by turning classic gnocchi into a tasty carrot-filled feast? These gnocchi are a combo of carrot and potato, and they are paired with a simple brown butter and sage sauce. It doesn't get anymore classic comfort food than this plate right here, folks!
Related: Squid Ink Gnocchi with Champagne Beurre Blanc and Crispy Prosciutto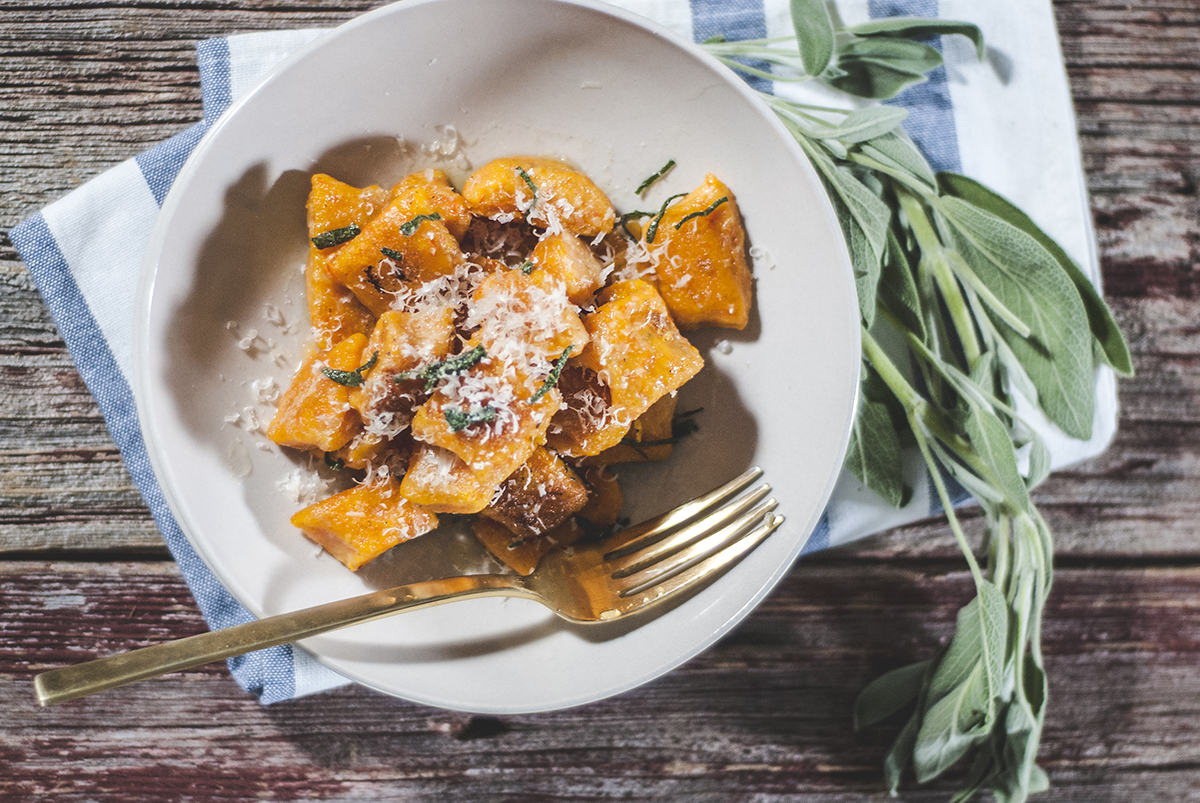 Now its your turn: What is your favorite go-to comfort food dis for the holidays? Share with me by commenting below!